About Maui by Foot
Aloha, I'm Helen!  I am the creator behind Maui by Foot.
Maui by Foot is a personal travel blog dedicated to the beautiful island of Maui.  It was born out of my love for Maui to help travelers like you experience Maui like a local and to fulfill your foodie dreams.
Everything you read and see on Maui by Foot is experienced, written, photographed and eaten by me. 🙂 I often travel back to Maui in an endless search for new adventures and culinary experiences so I can share them with you. Whether you need ideas on a vacation destination or planning a vacation to Maui, I hope this site inspires you to set foot on some sort of adventure.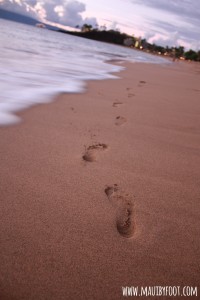 How it All Started
I love to travel but I especially LOVE traveling to Maui.  I've traveled to all corners of the globe but Maui has me addicted.  It's something about this small and calming island that packs a punch!
I took my first trip to Maui back in 2004.  From the moment I got there, I was hooked. All I wanted to do is stay in Maui and live the island life. The perfect warm weather, golden soft sand, crystal clear blue water, miles of beautiful beaches, the sea life, the friendly locals, the local cuisine, the laid back island life … it was the best vacation I ever had! When I returned to the mainland I was depressed and having Maui withdraws.  Since then I've made a yearly pilgrimage back to Maui.  Every time I return to Maui, I always experience something new and exciting.
So since my first trip to Maui, anytime anyone asks for vacation suggestions or planning a trip to Maui, I send them emails about all the places to visit, eat, explore and enjoy in Maui.   They all came back saying "Now I understand why Helen loves Maui so much! I love it too now.  You should become a Hawaii travel agent!"
What really kick-started this blog was when I convinced a co-worker to go to Maui and I put in a lot effort in sharing my recommendations. I wrote numerous emails, sent her links to pictures/videos and even hand drew a map of Maui with all the hot spots.  At this point, I realized this wasn't an effective way to share information with everyone. So my love for Maui blossomed this blog. As your global guide, it is my mission to help you explore Maui!