With this Maui Cheap Eats guide you definitely won't be starving in Maui. Maui has some of the best seafood and steak restaurants but why break the bank just to eat? Plus are you tired of eating restaurant chains that you can find on the mainland or expensive tasteless resort food? Maui has tons of local and Hawaiian cuisines for just under $20. Here are the best budget friendly restaurants in Maui!
Here's a list of Maui Cheap Eats!
Street Tacos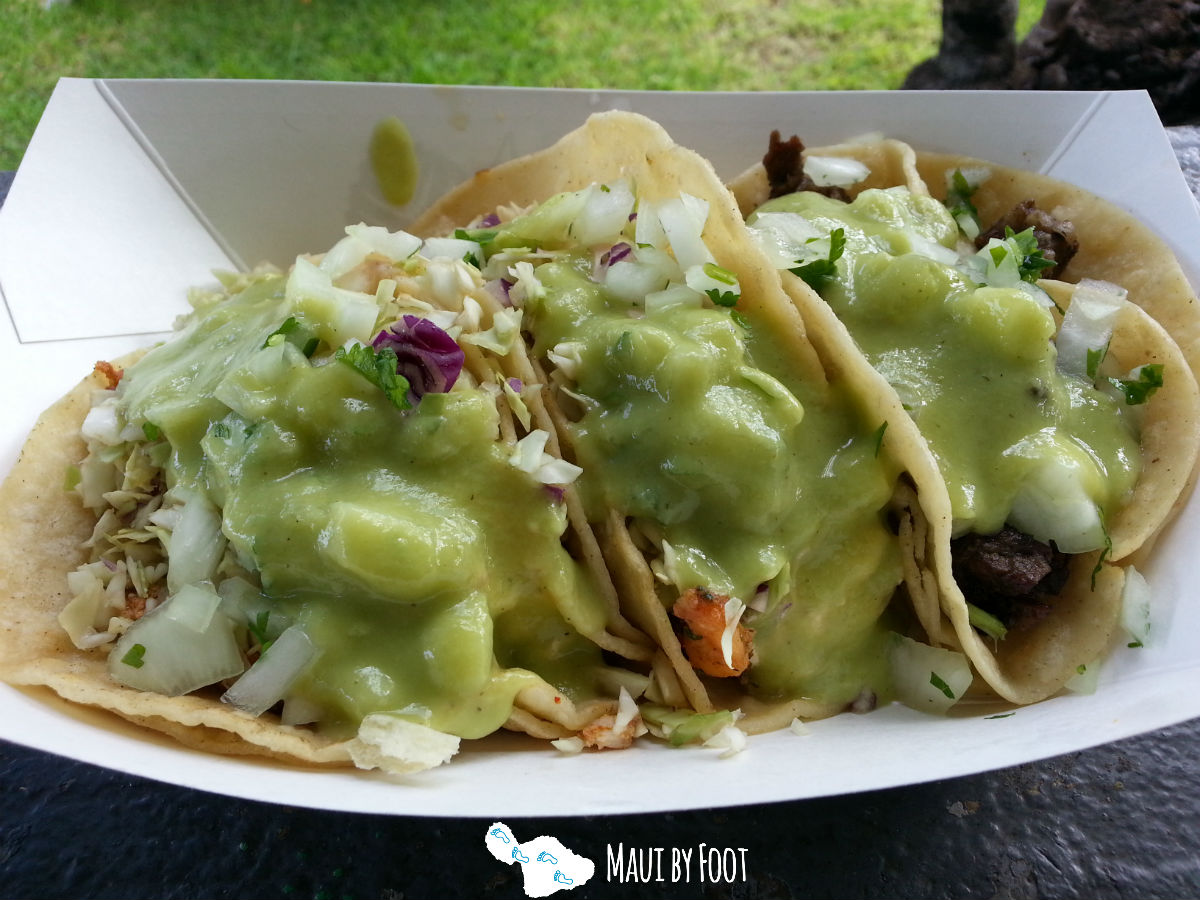 Located in Lahaina, Ono Tacos is the best authentic taco street in Maui. There is nothing fancy about this place. It's a food truck with a few tables and chairs but food is excellent here! The fish and shrimp tacos are great and flavorful even without any sauces. Tacos start at $4 each and for $10 you can get a combo plate or a burrito. You can easily feed 2 people for under $30. Cash only!
Breakfast
Kihei Caffe is a hearty breakfast or lunch place with the locals. This is another no frills spot. The burgers are simple, juicy and fresh made from local Maui beef. My personal favorites are their Loco Moco, Pork fried rice with eggs and Macadamia Nuts & Bananas pancakes. Prices range from $7 to $16. You order and pay at the with cashier and get seated at a table. It's like fast casual service.
They originally only had a location in Kihei but now they've expanded with a new location in Lahaina. The Kihei location has a more local chill vibe while the Lahaina location is modern. I have been to both locations and parking is much easier at the Lahaina location. Come early and hungry!
Sandwiches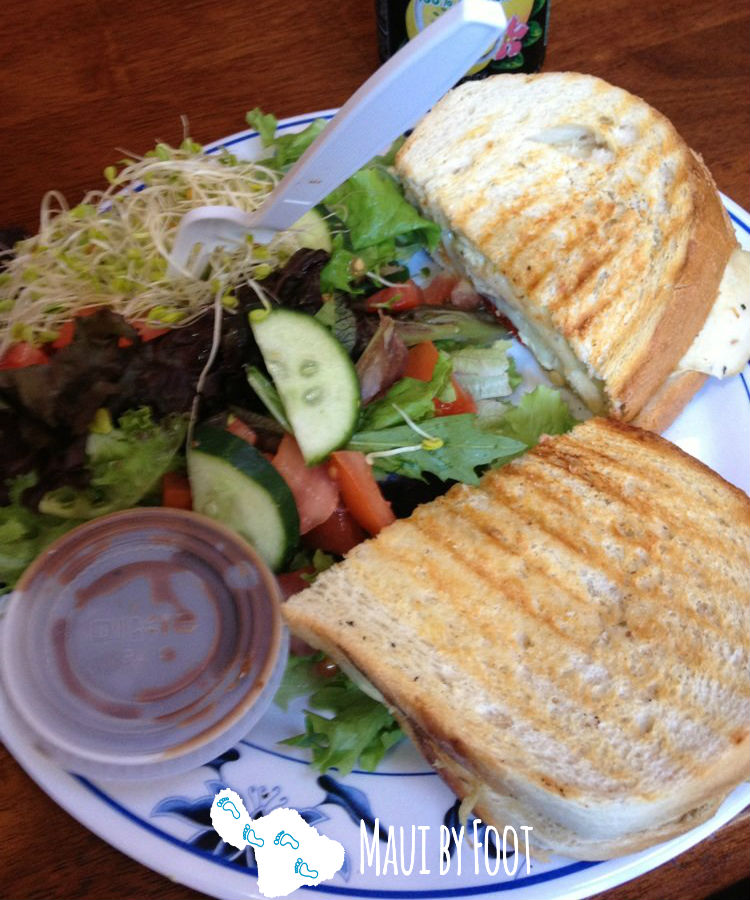 808 Deli is a great spot to pick up sandwiches or salads to go and eat them at the beach. You can get a lunch meal here starting at $11 which is super rare in Maui. The Banana Cream Pudding is incredible here and their "Porkie" sandwich is awesome!
Fish Tacos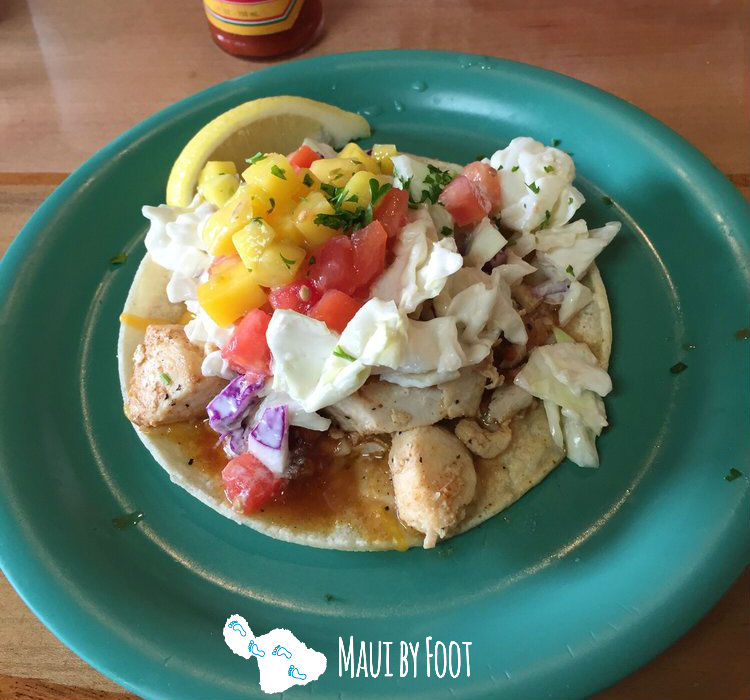 Coconuts Fish Cafe is another taco shop but they are known for their monster size Fish Tacos with homemade mango salsa. Come during off hours because during the rush the line can go out the door! They don't skimp on quality or quantity, they use 17 ingredients to make ONE taco. Their fried Coconut Shrimp, and Ono and Mahi fish tacos are a must try! Their 2 taco meal starts at $12.99.
Local Spot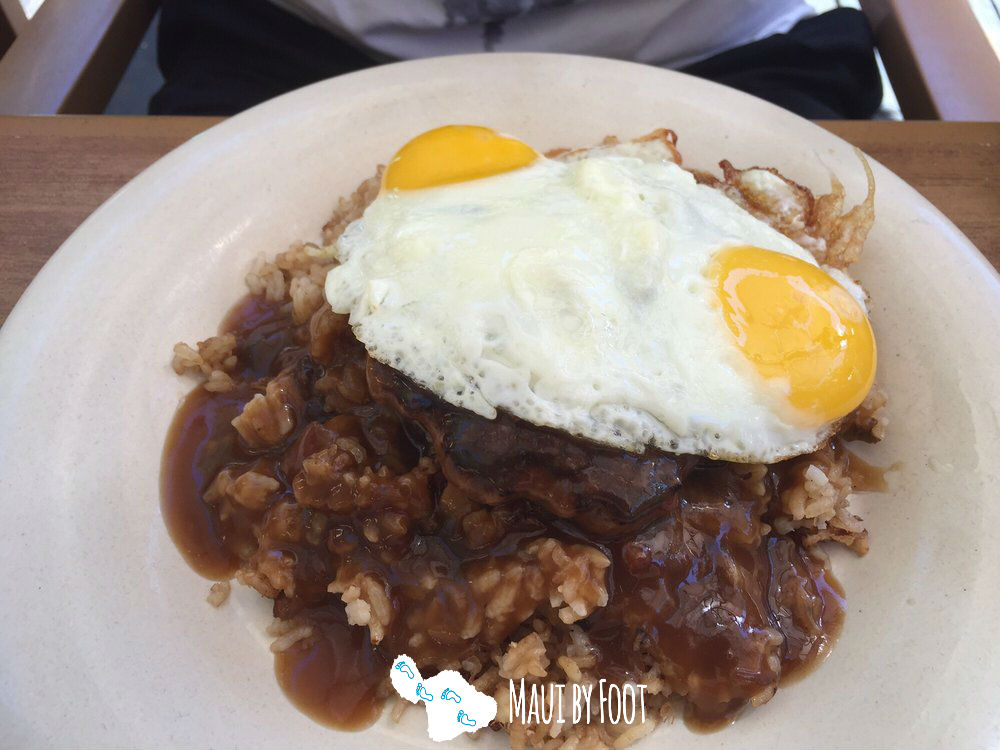 Aloha Mixed Plates is a great spot for Hawaiian classics. Aloha mixed plate is located in downtown Lahaina on Front Street, right across the street from the ocean. So you have a ocean view while eating without paying top dollar. Can't go wrong here, local cuisine such as loco moco, huge plate lunch selection, kalbi ribs, kalua pork sandwich and some tasty Asian noodle dishes with a million dollar view.
Hawaiian Cuisine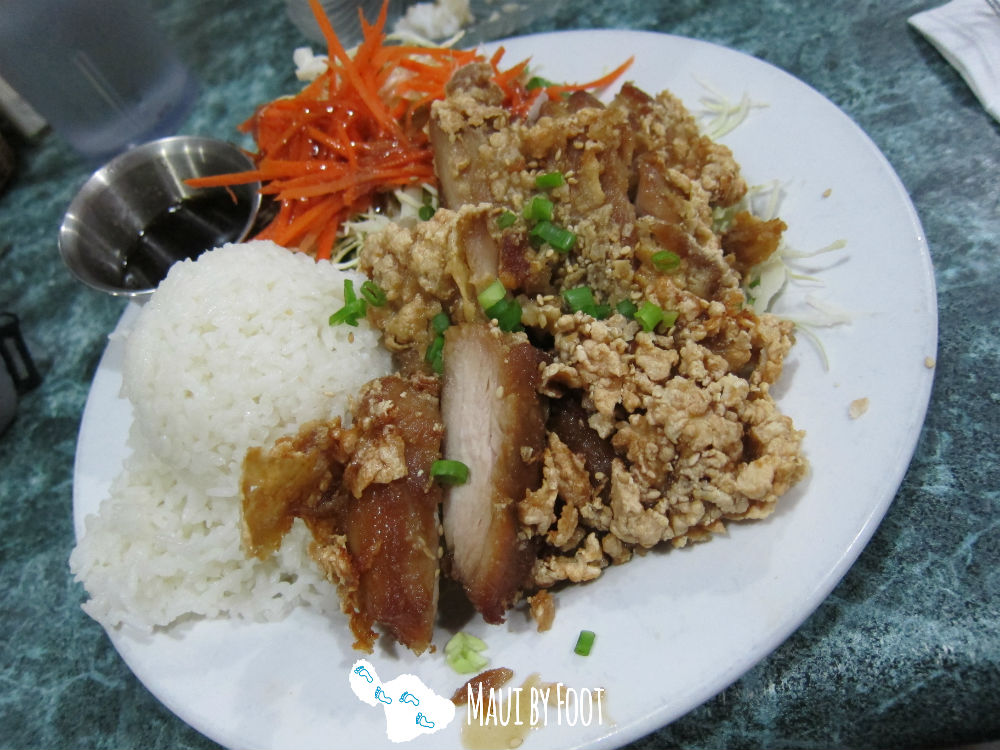 Da Kitchen is another great spot to get local Hawaiian cuisine and mingle with the locals. The portions are huge here. My favorites are the Fried Spam Musubi, their Hawaiian plate lunches and Loco Moco. A lot of their popular lunch plates are under $20.
Shrimp Truck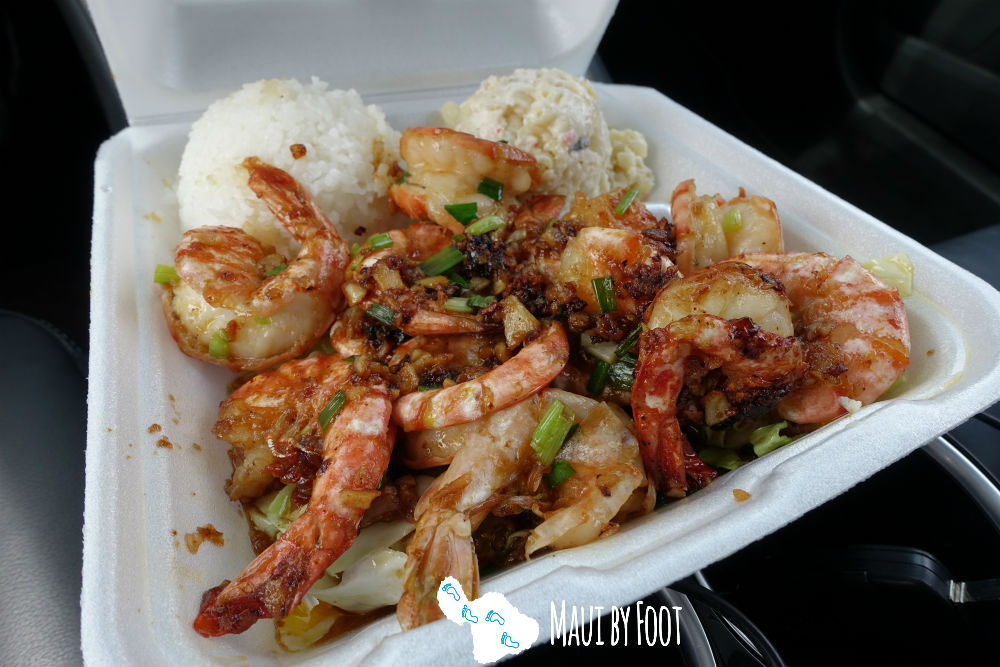 If I had to choose one place as my favorite Maui Cheap Eats, it is hands down without a doubt is Geste Shrimp Truck. The flavors are not something to be found on the mainland. For $17 each shrimp plate includes 12 pieces of shrimp, rice and crab potato mac salad. There are 5 flavors to choose from. My favorite is the definitely the Shrimp Scampi Plate which is basically shrimp cooked with butter and garlic. So simple yet so flavorful! I might get stoned for saying this but I think the flavors here is better than Giovanni's Shrimp Truck on Oahu! Cash Only!
They moved to a better location across the street from Costco at a dedicated food truck area. There's dedicated parking, shade and table/chairs to eat. Pro-tip, call ahead to place your order before head there. Everything is made to order and they can get quite busy.
Poke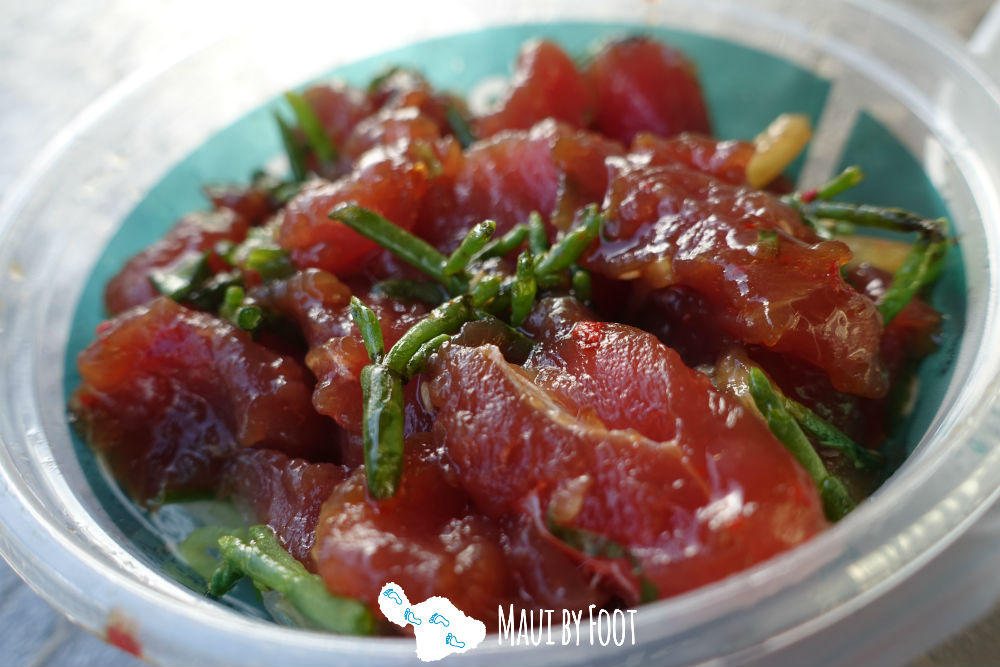 Foodland Farms grocery has one of the best Ahi Poke in Maui. A poke bowl with white or brown rice is only $6.99, what a steal! They have 10 different kinds of poke to try from. You can also buy just the poke per the pound and make several meals out of it. They also have pre-made sushi and bento boxes. So you can bring ready made food for the beach, hike or the Road to Hana.
Did you eat at one of the places from this Maui Cheap Eats guide? If so, please drop a comment to share your experience and what you ate! 🍛
Also try these other eateries from my Maui Foodie Guide!