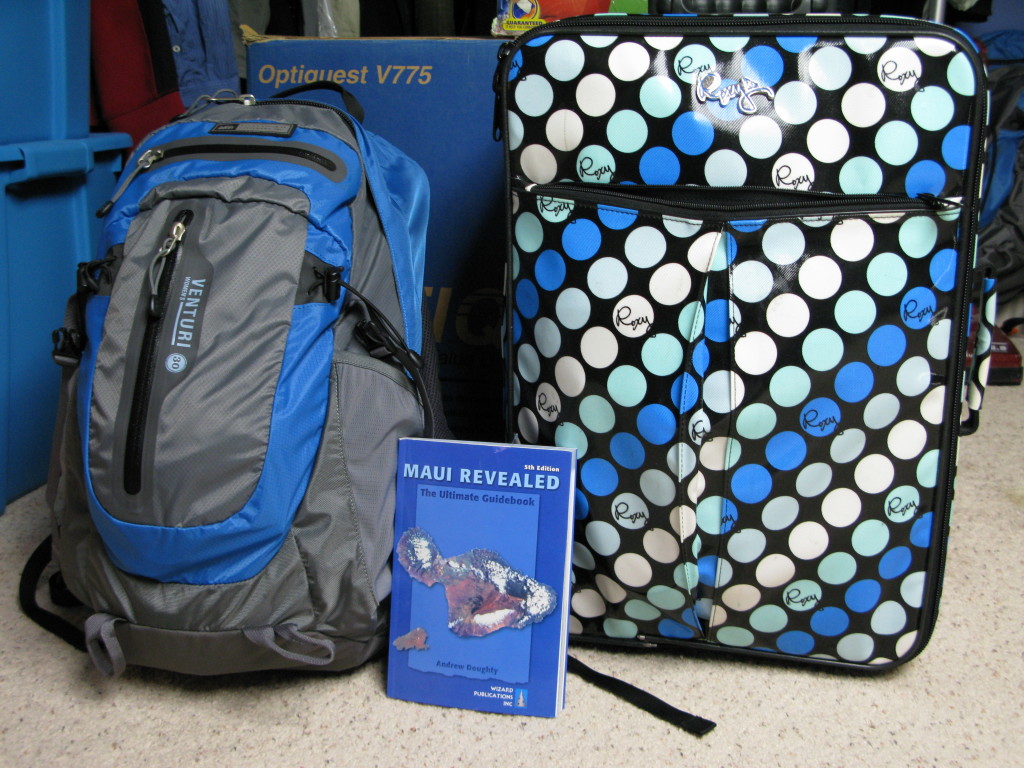 With Maui's warm tropical weather all year long, you would think packing for Maui would be easy right? You're just thinking a few shorts, shirts, sunglasses, flip flops and you're done!  However there are many things to consider.  You will need specific things for the beach, hiking, exploring and the evening out.  You don't want to look like a baked lobster or have your feet hurt while walking on coarse sand. So I've put together a comprehensive list of what to pack for Maui, so you have everything you need while vacationing.
I've organized the list of what to pack for Maui into 5 main categories (beach, clothes, foot wear, toiletries and gadgets/others).  In general Maui is a very relaxed and casual place. Most locals are in t-shirt/tank tops, shorts and flip flops. If you plan on going to the Haleakala Sunrise, I have a separate dedicated guide on what to wear there.  If you're a light packer like me or want to avoid the luggage fees, pack enough outfits for a few days and do laundry in Maui if your accommodations has a washer/dryer.
🧳 What to Pack for Maui Check List!
🏖️ Beach Attire
Beach Towel (your accommodations may already provide this)
Beach Bag / Backpack
Chap Stick with SPF
Flip Flops / Slippers / Slides
Hat / Visor
Snorkel Gear – mask + snorkel + flippers (or you can rent them Snorkel Bob's)
Sunblock, at least SPF 30 (or you can buy it in Maui at Costco, ABC or Target)
Sunglasses
Swimsuit or Swim Trunks (bring at least 2 pairs, so you always have a dry one to wear)
Waterproof case or bag to for your phone, keys, cash and card like this one
👕 Clothes
Evening attire (summer dresses, shorts, button up or polo)
Gym attire (if you plan working out)
Pants (recommended for the sunrise at Haleakala and Horseback Riding)
Shirts / Tank Tops
Shorts
Socks
Sweater / Light Jack (recommended for the Sun Rise at Haleakala)
Undergarments
👟 Foot Wear
Slippers / Flip Flops / Slides
Hiking Shoes or Hiking Sandals (if you plan on hiking)
Evening Shoes
Tennis Shoes for any physical activities like zip lining, ATV, or running
Swim Shoes / Water Shoes / Reef Shoes (this is helpful for walking on coarse sand at Red Sand Beach or lava rock at Dragon's Teeth)
🧼 Toiletries
You can bring these or you can stock up on these at one of the many ABC Stores, Costco or Target.  Some hotels provide basic toiletries like shampoo, lotion and soap.
Aloe Vera (recommended to apply after a day's full of sun)
Brush / Comb
Cream / Lotion
Chap Stick
Deodorant
Facial Cleanser
Feminine Products
Floss
Hair Ties
Hand Sanitizer
Make-Up Bag / Supplies
Medication
Q-Tips
Razor
Shampoo
Shaving Cream
Soap / Shower Gel
Sunblock
Tooth Brush
Tooth Paste
Gadgets & Others
Cell Phone
Headphones
Underwater camera like a GoPro
iPad or Tablet for the plane
Chargers for electronic devices
GPS or Maps of Maui
Health & car Insurance Information (medial history, primary physician, allergies)
Hiking Pole
Flash Light (for Haleakala or stargazing  or camping)
Mosquito Repellent (for hiking)
$$$ / Major Credit Cards
Reusable Water Bottle
Snacks for the flight
Travel Books on Maui (I recommend Maui Revealed)
Travel Documents (flight itinerary, hotel & car reservations, passport / ID)