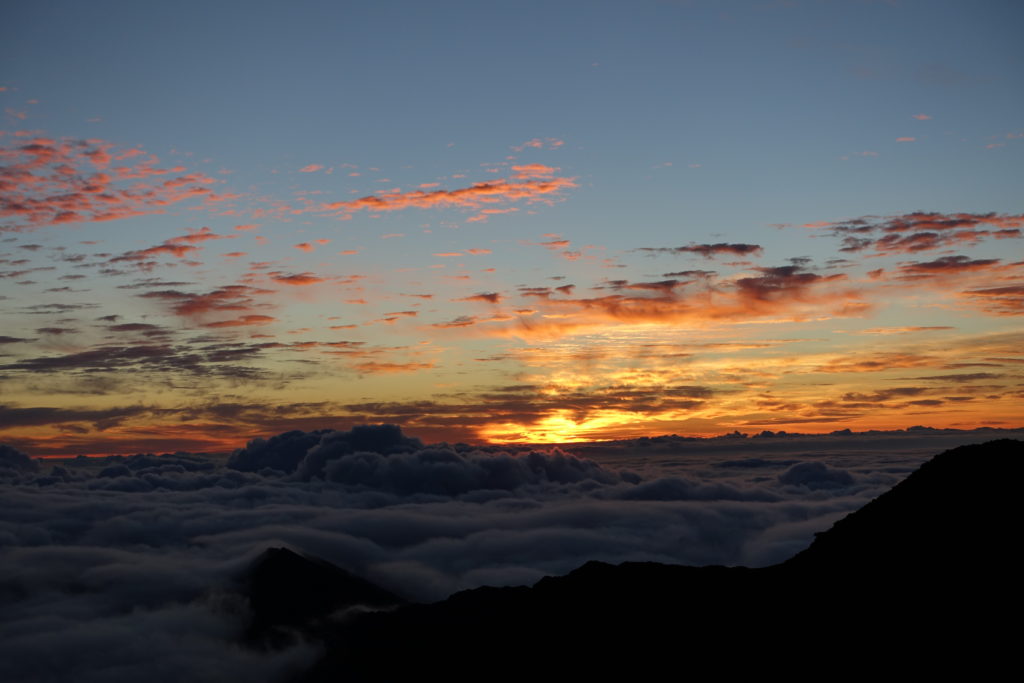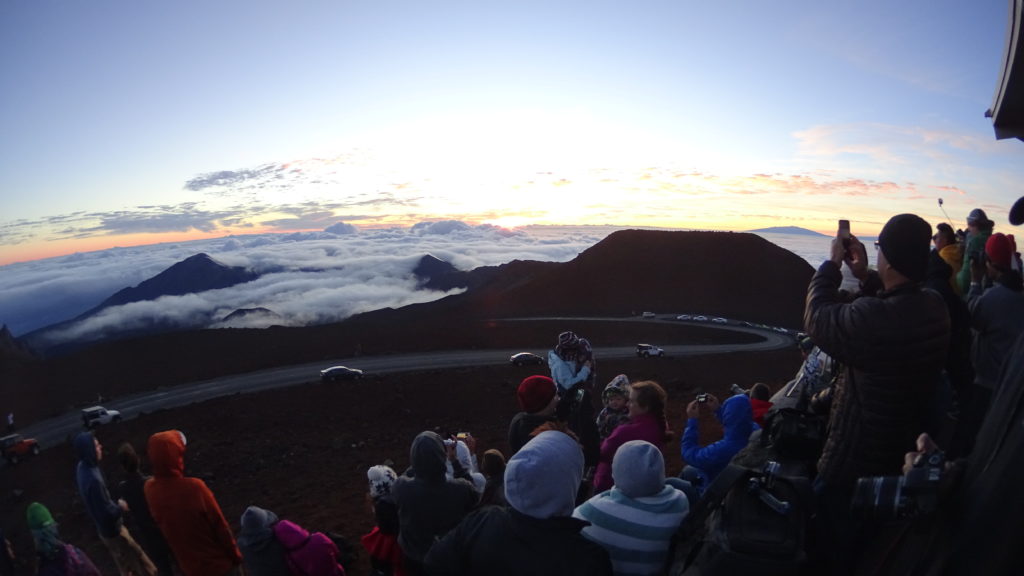 UPDATE: Starting Feb 1, 2017, the Haleakala Sunrise requires a reservation. Read more about the Haleakala Sunrise Reservation System before heading there.
Haleakala Sunrise at Haleakala Summit has one of the world's best view of the sunrise. 10,000 feet above sea level and clouds, the view is simply breathtaking. However the temperatures at Haleakala are terribly cold and the wind chill will simply destroy you if you're not prepared. I've seen people show up in beach clothes and it boggles my mind.  Temperatures in the summit area commonly range between 32°F and 65°F.  So you want to be warm but you don't want to over pack with arctic winter gear to a tropical destination and take up precious luggage space right? So here are some tips on keeping warm at Haleakala:
Wear AT LEAST long pants, long sleeve shirt/sweater or light jacket, socks and closed toe shoes.
Bring a beach towel to sit on the ledge. The ledge is cold, wet and hard.
Bring a blanket from hotel or condo to keep you actually warm.
Snuggle up with someone!
Gloves and a hat would also help if you have the space.
After the sun has risen, take time to take more pictures and explore the area a bit. People start to scatter like roaches after 5 minutes of the sunrise.  This is the best time to take photos because no one will be in the background.  The views of Maui are spectacular and terrain in the area is interesting to explore.  And when you're hungry head over to Kula Lodge for some pancakes, or Kula Bistro for some pastries or fried rice or Grandma's coffee House for the best cinnamon rolls and coffee on island. Then after breakfast check out the Tedeschi Winery and the Lavender farm.
If sitting in the cold waiting for the sunrise isn't for you, Haleakala is also great for sunset and the temperature is much warmer.