The Road to Hana cannot be missed. Hana makes you feel like you're on a different planet.  A very remote area of Maui on the east side that is filled with so much untouched natural beauty. Some call it the "Road to Hell" or the "Road to Divorce" because you will have to journey across 52 miles of winding road, hairpin turns and numerous one lane bridges to experience all of Hana. This treacherous drive causes couples to argue.  Don't worry, it's not that bad.  Just take your time and drive carefully.
In these 52 miles of road it's jam packed with natural explosion, water falls, unique beaches, bamboo forest, lava cliffs, lush green forests, fresh water caves and much more! It takes about 2 to 3 hours to get to Hana depending where you're starting from and all the stops you'll be making, so it's an all day trip.
This page will be quite long with important and useful information on surviving the Road to Hana.  The Road to Hana isn't jump in your car and drive to a destination to see everything.  It will take some planning but if you're ready to jump to activities check out Top 10 Things to do on The Road to Hana.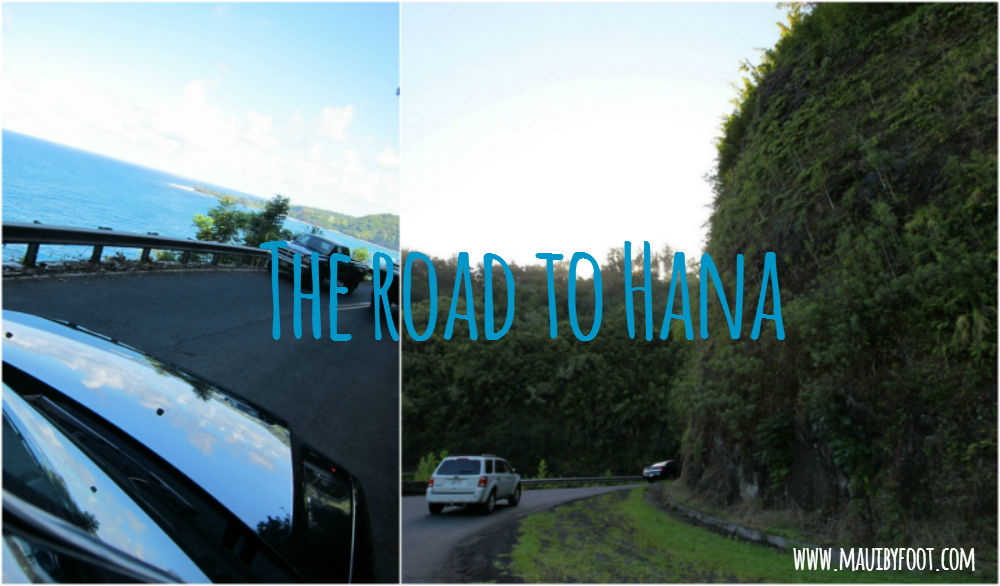 Things you need to know about the Road to Hana before you head out
Even though the name of the trip is called "Road to Hana", it's not about getting to a town called Hana.  The trip is about exploring and enjoying the scenary along the way.
The Road to Hana is all day journey if you want to fit as much in as possible.  From sunrise to sunset.
Don't expect to do everything in 1 day because you can't. The great thing about the Road to Hana is everytime you return there is always something new you can explore and see.  There is countless hidden treasures on the Road to Hana that can take a lifetime to explore.
Past the town of Paia there's only ONE gas station on the Road to Hana and that is in Hana Town. The gas price here is outrageous so gas up before you go!
The Road to Hana is mainly on the Hana Highway 360 which is narrow and twisting with over 600 turns. Sometimes there's only one-lane roads and roughly 54 one-lane bridges, and no shoulder. At these parts you'll need to take turns getting across.  It is not an impossible drive but you'll need to pay extra attention to your surroundings.  If you're not up for this driving adventure but still want to experience Hana there are tour buses like Valley Isle.  There is also an airport in Hana which can get you there in 20 minutes from OGG.
The reason why people jam as much in while the sun is out is because driving on the Hana highway at night is not recommended.  There are no street lights and with all the turns, this could be dangerous for drivers who are not familiar with the road.
There are accommodations in Hana if you want to stay in town for a couple of days to see more.
The most popular, safest and recommended route is start from Kahului (Central Maui) to Hana, and then turn around and head back home.
Returning home you could take backside of Haleakala and traverses through Maui's gorgeous upcountry just past the 7 pools aka South Route. However the first 5 miles is single lane, unpaved, blind turns and rugged with no guardrails on the ocean side.  So if a bus is coming your way on the one lane road, the bus can't back up and you have to to back up on the ocean side!  After 5 miles, it becomes a decent 2 lane road.  It is not an impossible route to take but it's not for the skiddish.  I've been on it a few times and fortunately I didn't have to come face to face with any bus.  If you drive slowly, you'll be fine and you get the admire the landscape more. The scenery on this route is way different than North Hana.  It's dry, less green, lava formation and has wonderful view of the ocean while the sunsets.  Some car rental agencies prohibit driving on this route, so check with them before trying this route.  To give you an idea how uncommon this route is, I only saw another car every 15 minutes and they were mostly locals.  I do not recommend this route if you're not comfortable driving in this terrain.  But for some this could be adventure!
Cell signal can range from spotty to non-existent.  It gets better in the Hana Town.
Road to Hana Driving Directions
Take Highway 36 from the town of Paia
Stay on Highway 36 until it turns into Highway 360
Continue on Highway 360 and this will get you to Hana Town and Oheo Gulch (Seven Sacred Pools
Once you get to the Kipahulu region of Haleakala National Park, this would a good point to head back unless you want to take the South Route home (not recommended)
Road to Hana Drive Time (no stops)
From Central Maui (Kahului) to the Oheo Gulch (Seven Sacred Pools) is approximately little bit over 2 hours one way
From West Maui (Kaanapali/Lahaina/Kapulua) to the Oheo Gulch (Seven Sacred Pools) is approximately 3 hours one way
From South Maui (Kihei/Wailea/Makena) to the Oheo Gulch (Seven Sacred Pools) is approximately 2 hours & 30 mins one way
Road to Hana Driving Tips
Make sure your GPS device or your GPS app on your mobile can look up the Road to Hana route the night before. Search for 'Kipahulu Visitor Center' which is where Oheo Gulch (Seven Sacred Pools) is, typically the main last attraction for most people before they turn around.  Or just simply familiarize yourself with the route with Google Maps.
Get a guide book such as Maui Revealed which details everything little thing along the way and easily reference things by mile markers which are clearly marked on the roads. Or get CD tour guide for Road to Hana.  If you want something little bit more interactive get a Road to Hana driving tour mobile app that uses your GPS signal to give you a real time narrations of suggested stops as you drive.
Even though it may seem like you're driving on the same road on the Road to Hana, there's actually 3 separate highways you drive on.  36, 360 and 31. Mile markers change depending on what highway you are on. Each highway has its own mile markers. From Paia the mile markers for highways 36 and 360 start at 1. Then a bit past Hana Town it becomes highway 31 and mile markers are counting down from 50.
There is only one gas station on the Road to Hana which is in the Hana Town, so gas up the night before and gas up again when you reach Hana Town.
Many locals drive the Road to Hana for their daily commute into central, south and even west Maui.  If you see one behind you, pull over when safe and let them pass you.
If you easily get carsick from windy roads, take some non-drowsy motion sickness medication or make frequent stops to get some fresh air.
When you approach one of those many one lanes bridges, you yield to oncoming traffic.
The Road to Hana is very a popular attraction and the highways can get very congested with commuters and tourists.  So you need to start early, like 6am early.  Half day trips are possible but you won't nearly see as much.
Avoid driving at night, so start your journey back home around 4:30pm
Other Tips on Surviving the Road to Hana
To maximum your time you should plan ahead and pick out spots to visit, take note of the mile marker and create an itinerary.  You can't see everything in 1 day so pick a few things you must see so you have plenty of time to enjoy them and save the rest for next time! Need ideas? Check out the Top 10 Things to do on the Road to Hana
It's a long drive, bring plenty of water and snack so you don't have to make frequent little stops.
Bring sunscreen, swim wear, hiking shoes, towels, change of clothes and mosquito repellent.
Bring fully charged camera and cell phone.  Extra battery or car charger if you have it.
Hana can get lots of rain, so check the weather forecast before heading out
Check for any road closures before heading out: http://www.co.maui.hi.us/643/Road-Closure-Notifications
Visit the park's website for additional info and tips https://www.nps.gov/hale/index.htm
Hana is home to many locals, respect them and their private property