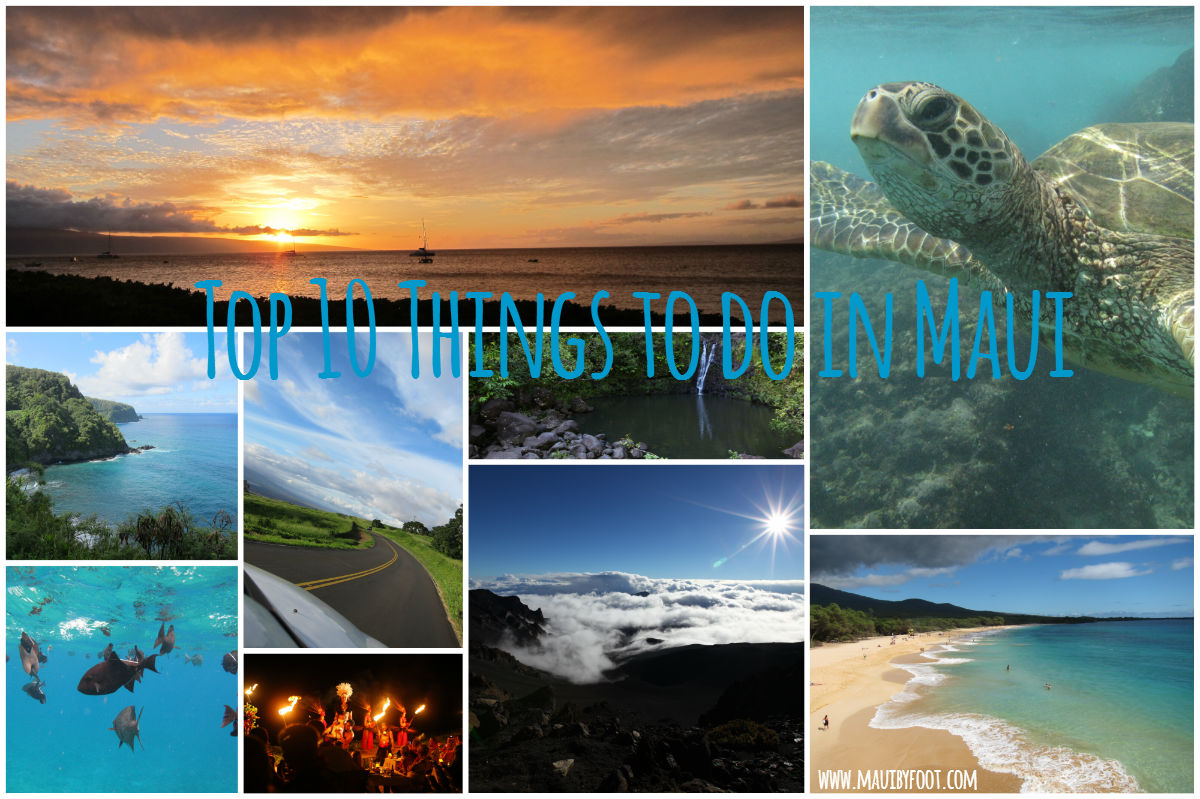 Maui has so much to offer from simply relaxing on one of the most gorgeous beaches in the world to hiking through a bamboo forest.  There's so much to list out but I'll start with the 10 best things to do in Maui. Everything I recommend here I have personally done.
1. Snorkel Trip to Molokini ⛵
Molokini is a partially submerged volcano crater and it is one of the only three underwater volcanoes on the planet.  So snorkel at one of the best spots in Maui!  It's also the top 10 dive spots in the world. Molokini is home to over 200 species of fishes with an abundant array coral reefs.   The visibility underwater is incredible, up to 150 ft.  Read more … on how to get there.
2. Sunrise at Haleakala Summit 🌅
Drive above the clouds and watch the sunrise at the Haleakala Summit from 10,000 feet above sea level is amazingly breathtaking.  One of the best views I've seen in my life.   In Hawaiian, Haleakala means the house of the sun, very fitting! Come at least 1 hour before sunrise and dress warm.  Before the sunrise you get the chance star gaze and slowly watch the sky transform to amazing colors.  One of the most natural and surreal experiences in my trips to Maui. This view is so magical and popular that it does require reservations. Learn where to make reservations and others things you should know before you go here.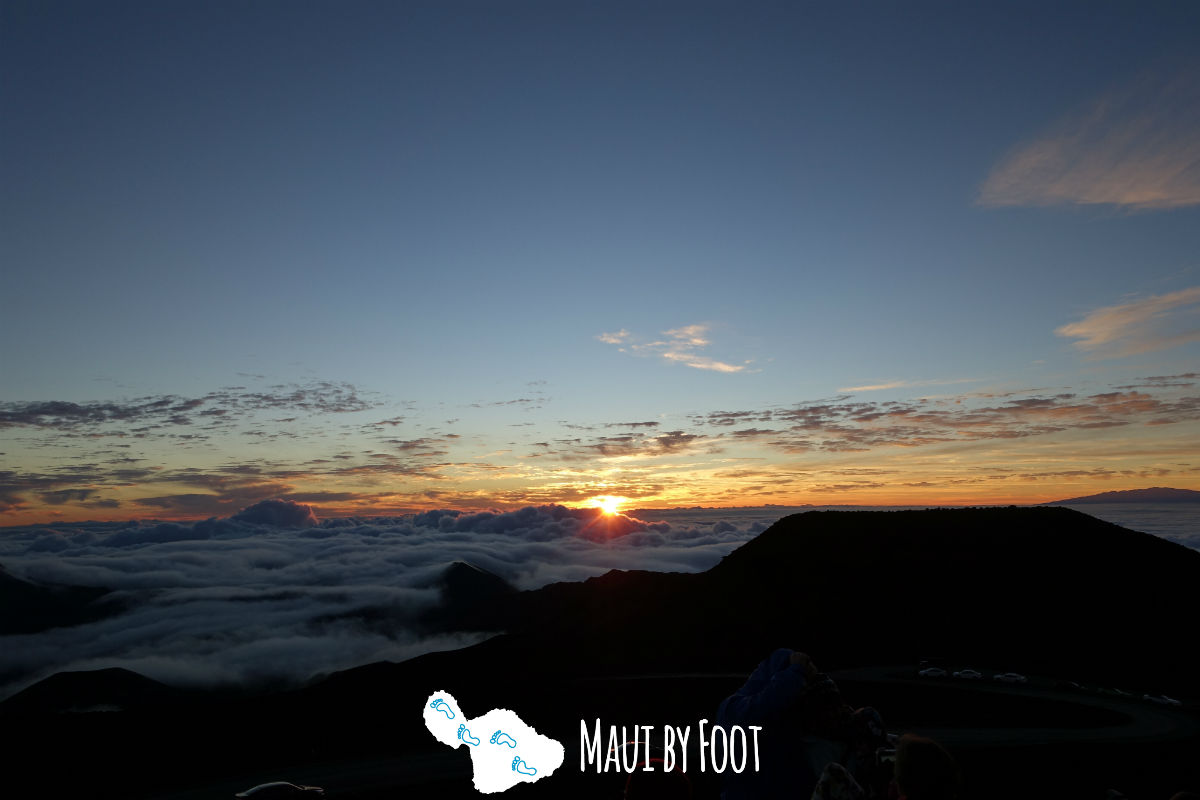 3. Beach Day 🏖️
One of the most exciting things about a Maui vacation is the beaches!! Maui has over 30 miles of amazing and beautiful beaches. Snorkel, swim, sunbathe and relax at one of Maui's many pristine beautiful beaches.  Just to list a few, The Black Rock at Kaanapali Beach, Kapalua Bay, Big Beach, Wailea Beach, etc.  Checkout the best beaches in Maui.
4. Whale Watching 🐋
Catch a glimpse of the magnificent humpback whales in the waters of Maui. 🐳 Every year, over 10,000 humpbacks migrate to the warm and shallow waters of Maui. From mid December to mid April you will have the opportunity to see them in action.   You can often see them from shore slapping their tails and fins or for a closer encounter take a boat tour with Pacific Whale Foundation. 100% of their proceeds goes to researching and preserving ocean life.  Brownie points in my book!
5. Road to Hana 🌳
The Road to Hana is one of the best things to do in Maui and cannot be missed. Hana makes you feel like you're on a different planet.  It is located in the remote east side and is filled with so much untouched natural beauty and lush greenery. Hana averages 55 inches of rain per year, so it's a prime spot for waterfalls. There are over 15 waterfalls located along the Road to Hana. Some are visible from the road and some require some hiking.
The Road to Hana can also be known as "Road to Hell" or the "Road to Divorce". You will have to journey across 52 miles of winding road, hairpin turns and numerous one lane bridges to experience all of Hana. This treacherous drive causes couples to argue, which leads to divorce…haha j/k!  Don't worry, it's not that bad.  Just take your time and drive carefully. The Road to Hana does take some prepping and planning, so read more here.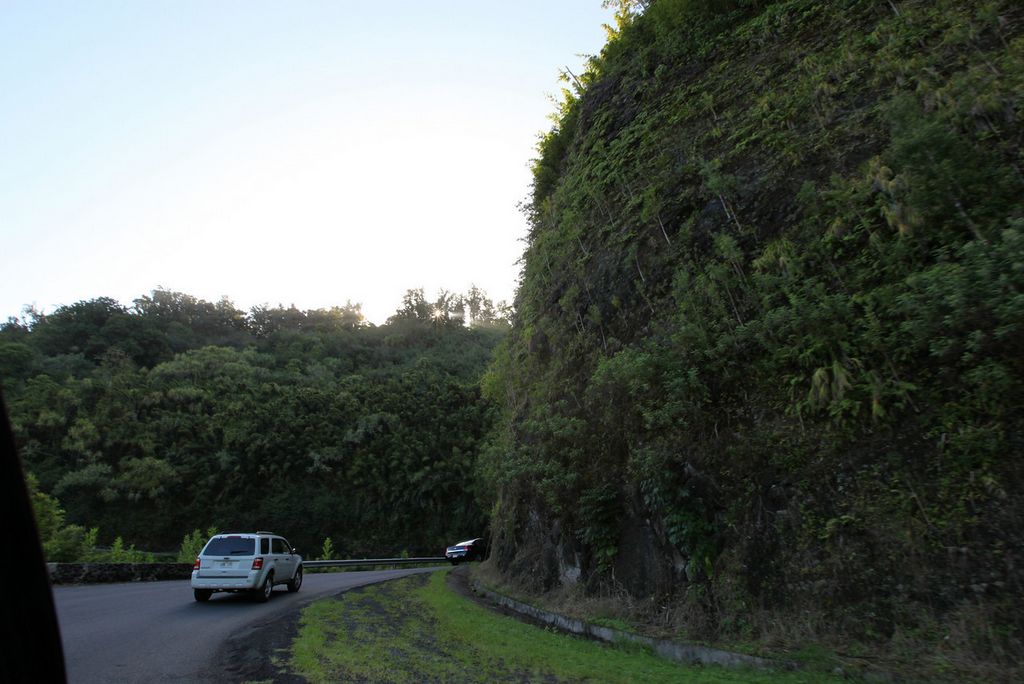 6. Zipline
Fly through Maui's tropical forests or upcountry via Zipline tours.  Each Zipline Company offers different views. To zipline through the valley and get general view of beautiful Maui try Flyin' Hawaiian Zipline or for a more tropical lush experience try Kapalua Zipline or Jungle Zipline  Or try Pi'ilhol Ranch to zip through a gulch filled eucalyptus forest.
7. Luau 🕺🏽
This seems like a very touristy thing to do but if you haven't been to one, I recommend you try it at least once.  You are fed great local Hawaiian dishes and taken back to history with traditional Hawaiian music and dances.  The shows are entertaining and it's part of the Aloha Spirit. Try Old Lahaina Luau for the most authentic Hawaiian Luau. Or try Feast of LeLe to be pampered with a 5 course meal and your own private table.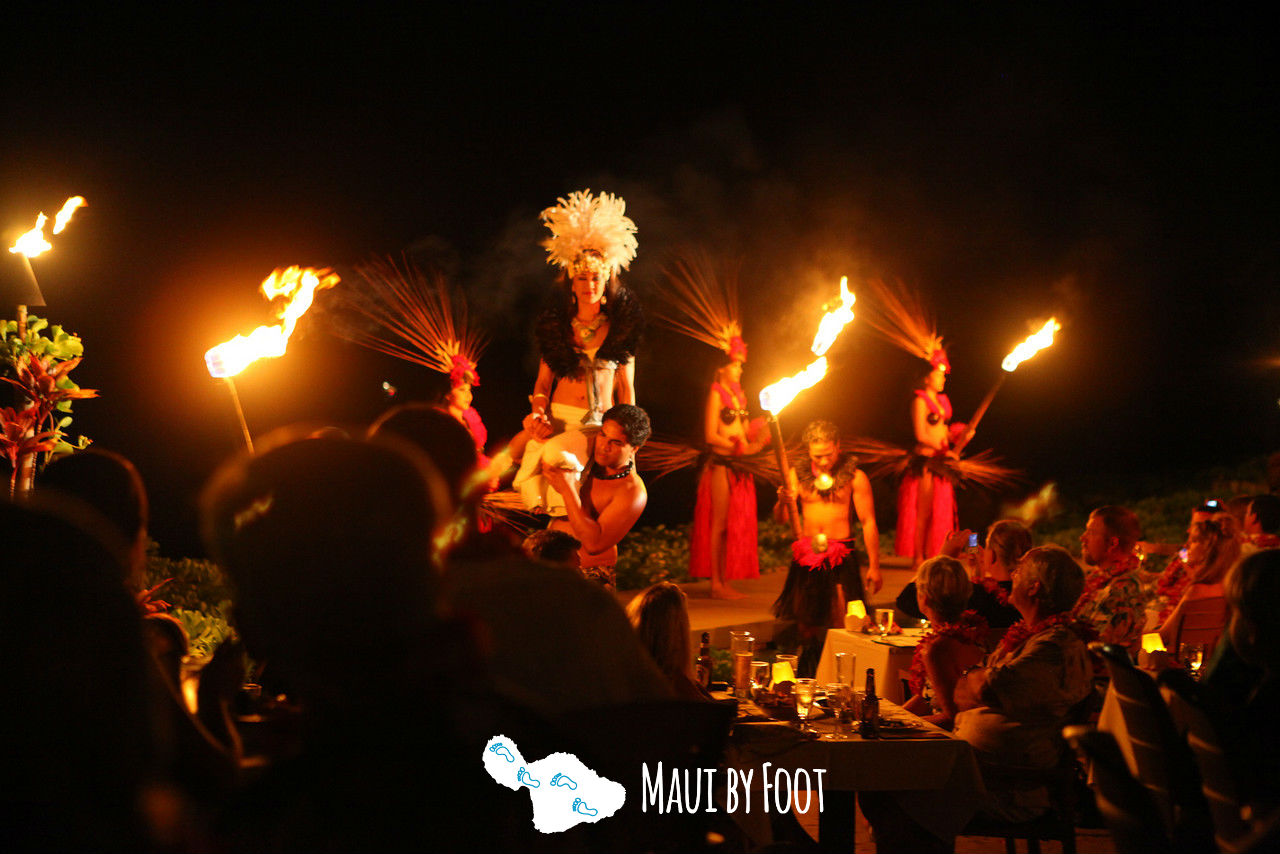 8. Downtown Lahaina 🏪
Have a night out in the historic downtown Lahaina.  All the action can be found at Front Street which is conveniently located right across the beach.  This area has many shops, eateries, bars, entertainment, art galleries, local crafts, live music and of course timeshare hawkers.  You can do your souvenir shopping here and eat at one of the many delicious restaurants.  The famous Banyan tree is also located in downtown Lahaina surrounded by locals selling handmade crafts and arts.
9. Iao Needle ⛰️
Just 7 miles away from the Kahului airport, the Iao Needle stands 1200 ft tall. It is covered in green lush and surrounded by the beautiful green mountains. It is one of the most iconic and photographed places in Maui. There is a nice and paved .6 mile path to get a view of the needle. Spend at least 30 mins walking around to enjoy the scenery, stream, and garden. Starting April 19th, 2021, there is a parking and entrance fee per person (non-residents). Check here for the latest fees.
10. Watch a Maui Sunset 🌄
We've talked about the Haleakala sunrise as one of the best things to do in Maui. But what about the sunset? The sunsets are just amazing and stunning. The best locations for watching Maui sunsets are South Maui, Upcountry Maui and West Maui. My favorite is West Maui on Kaanapali Beach. The sunsets from Kaanapali Beach are gorgeous. The sunsets from this viewpoint paints the sky with brilliant shades of pink and blue.  Check here for a complete list of best places to view a Maui sunset.