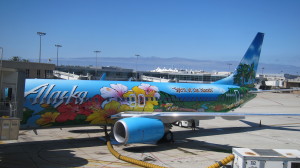 So you've decided on when to go to Maui, now you need to figure out how to get to Maui.  The options are pretty limited but they are by a Cruise Ship or Airplane  For this guide I will focus on flying there because it's the most direct and fastest way to paradise.  So now you're wondering …
Which Maui Airport do I fly into?
Maui has 3 airports, Kahului Airport(OGG), Kapalua Airport(JHM) and Hana Airport(HNM).  99% of the major commercial flights to Maui fly to Kahului Airport (OGG).  It's Maui main airport and has plenty of car rental companies near by with shuttle service running to/from the airport.  Traveling to major resort areas is easy.  The Kapulua and Hana airports are much smaller and are more for commuter type airlines.  So from your destination you want to fly into Kahului Airport (OGG).
Now that we have established where you fly into for Maui, the fun part is here … booking your flight to Maui! You have many Airlines to choose from to fly you to Maui: Alaska Airlines, American Airlines, Delta, Hawaiian Airlines, United, and US Airways.
I've flown Alaska, Hawaiian and United to Maui before and I personally like Hawaiian better because they have better service, food is better and their business is focused on flying travelers to Hawaii.  So the flight and the staff have more of the Aloha Spirit and Hawaiian feel to it.
How do I find the cheapest rates on flights to Maui?
There are travel websites that specialize in finding you the best deals on flights, hotels and vacation packages.  On these sites you enter in your location, destination to Maui, HI and your dates, then they scour all the travel sites and airlines and show you results of all the available flights from various airlines with prices.  You can easily sort the results by price, time, etc. Here are some sites I use to find the best rates on flights to Maui:
I personally like using Kayak because their site is simple and easy to use.  They have many options to customize your search results.
Remember the best deals on flights to Maui would be during off season and avoid the Holidays.  The most expensive days to fly are Fridays, Saturdays and even Sundays.  If you can avoid those days and fly between Monday and Thursday.  With Kayak, they have an option to show you flights 1 or 2 or 3 before/after your desired flight date, that way if you're flexible you can go a little early or little later for a cheaper price.
If you have a travel agent, use them as resource as well to find your best rates on flights.  They might have access to cheaper flights that the public doesn't have access to.  You can also get package deals that includes flight + hotel + car from Pleasant Holidays or Costco travel.
If you're flying from the West coast you'll notice you have more options to fly directly to Maui.  If you're flying from the Midwest or the east coast, you'll probably have 1 stop over or even 2.  The layover is usually at Honolulu, Oahu which is a very busy hub to connect to other Hawaiian islands and many international flights, especially from Japan.