Las Vegas is a popular destination and flying there has become pricy. The days of $29 roundtrips to Vegas from Southwest are long gone. I am going to show you how to fly to Las Vegas for cheap with this easy trick.
Spirit airlines does not advertise this but to fly to Las Vegas for cheap is to simply purchase them at the airport counter instead of online of by phone. I have successfully used this trick many times to get cheap flights to Las Vegas since 2016. My cheapest flight to Las Vegas using this trick was $50 roundtrip from Southern California. Throughout the years I have saved $30 to 40 per flight.
Why buying at the airport counter saves so much?
The price you see online is the out the door price with all the taxes and fees before the optional add-ons. When you book online or by phone Spirit charges a Passenger Usage fee for each way. Since it is a convenience fee it can be avoided by buying directly at the airport. So if the passenger usage charge is $22.99 each way, a family of 4 could save $183.92 in airfare.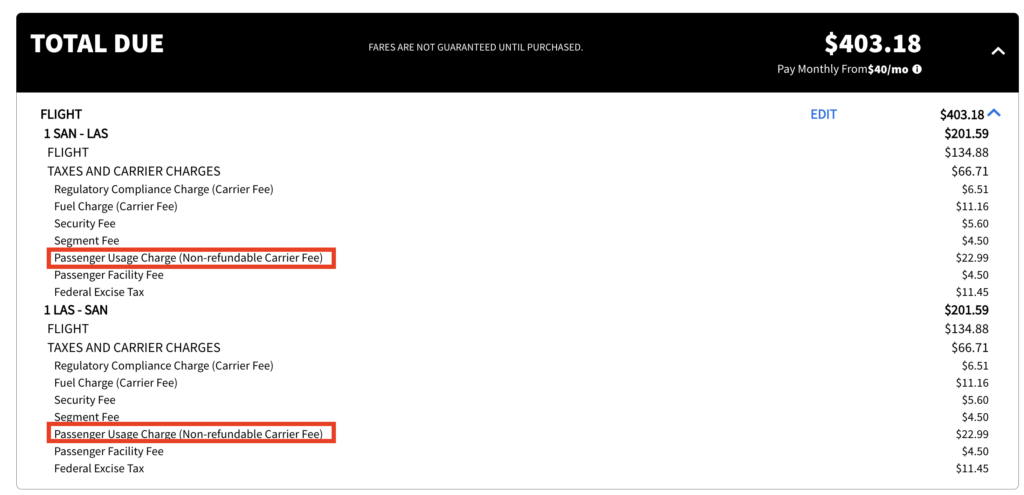 How to buy a Spirit ticket at the airport
Now you may ask do you need to give the agent a secret hand shake to get the deal? No, you literally just go to the airport and purchase with a Spirit agent. It is not a drug deal. Sure it'll make you feel like you're 70 years old and paying something with a checkbook but it is worth the savings!
When you know your dates, just go to an airport that Spirit operates out of. Ideally the one you'll be flying out of.
Be sure to check the business hours when the Spirit airport counter is open.
Tell the Spirit counter agent you want to purchase tickets to Vegas with your dates. You can use this trick with any destination that Spirit flies to.
Agent will tell you the price. It'll be a good idea to check the online price and other competitor pricing for a frame of reference to see how much you're saving.
If you agree, you give them your details and pay. If you have TSA Pre-Check be sure to have the agent add your Known Traveler # to the flight.
They'll give you a print out of your flight details, cost and confirmation #.
Confirm everything is right and be on your way.
Here's some evidence that this trick works!
These are the print outs I get when I purchase tickets at the airport counter.
$253 was the total price for 2 people. So it was only $126 roundtrip per person which is a steal these days. Southwest was easily $100 more.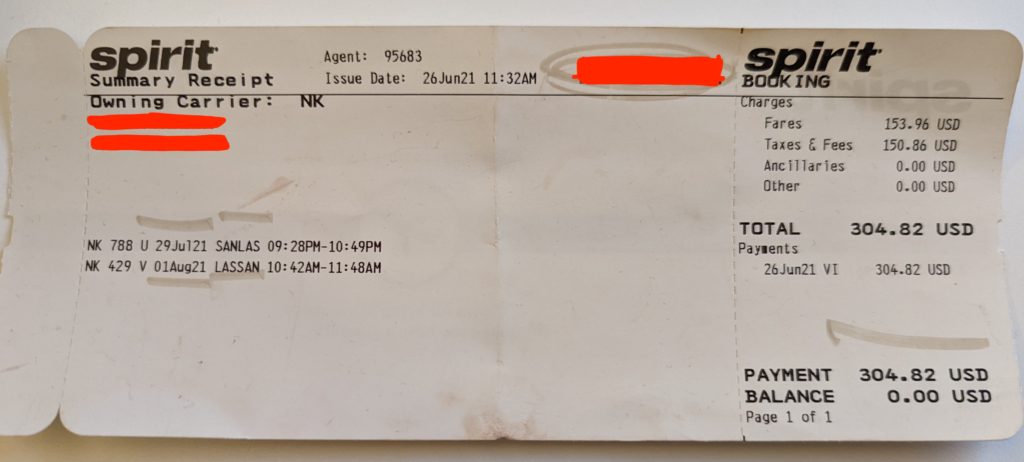 $304.82 was the total price for 2 people. So it was only $152.41 roundtrip per person which is still a good price compared to Southwest at the time. Notice there's no Passenger Usage fee.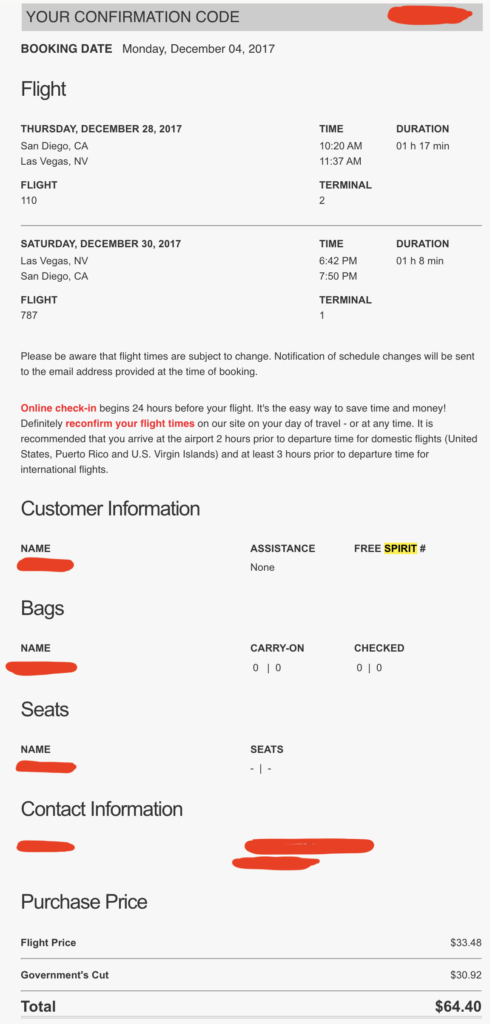 $64 roundtrip back in 2017!
Other tips on flying with Spirit Airlines
Spirit airlines is a budget airline. So they nickel and dime you for everything. They charge from seat selection, carry-on to breathing their recycled air. You need to make sure the total cost including any add-on fits your budget.
Did I mention Spirit airlines is a super budget airline? Their seats are card board thin, they don't recline back and the seat tray tables are tiny as fuck. They also don't serve complimentary drinks or snacks. So bring them! Since I fly from Southern California the flight is only less than 1 hour so I can deal with a less luxurious flying experience. I would not recommend flying Spirit if it is more than 2+ hours but everyone's tolerance on a bare bones flight is different.
Check-in online/mobile for free.
Their carry-on fee is outrageous but they allow a personal item for free such as a purse, small backpack or weekender bag. A personal item is 18 x 14 x 8 inches. Check Spirit's bag policy for the latest requirements. I like going to Las Vegas in the summer because there's less clothes for me to pack. 😛 If you need to carry on a larger bag, it'll be cheaper to buy it when you book your flight.
I have no scientific proof of this but this is solely based from my experience with experimenting. When you check into your flight I believe Spirit starts from the back of the plane. Don't rush to get checked in 24 hours before your flight. I typically check-in 12 hours or less before my flight and I am usually seated in the middle.
Did this trick help you fly to Las Vegas for cheap or to a different destination? If so, please drop a comment to share your experience with future readers. 🙂