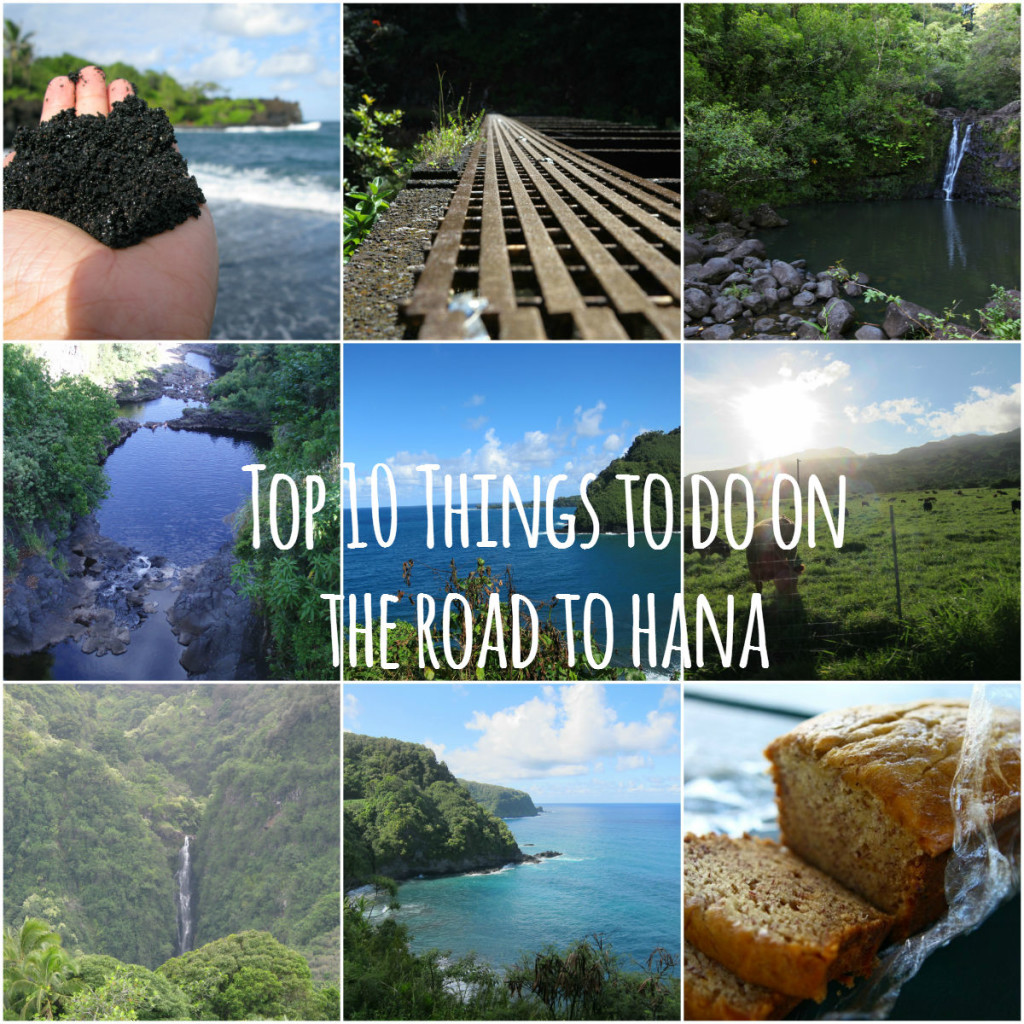 In these 52 miles of road it's jam packed with natural explosion, water falls, unique beaches, bamboo forest, lava cliffs, lush green forests, fresh water caves and much more! There is countless hidden treasures on the Road to Hana that can take a lifetime to explore.  So here are top must sees on the Road to Hana!
Twins Falls (mile marker 2)
A relative easy 30 min hike to see your first water fall on the Road to Hana! There's a small dirt lot you can park at or street parking.  The trail starts to the left of the fruit stand.  The trail is muddy and has a stream you need to cross so wear hiking shoes or water shoes.  Once you get to the falls you can swim in the water, it is just very cold.  Be careful getting in and out as it can be rock.  There is also a lot of mosquito so bring bug spray!
Keanae Peninsula (mile marker 16 – 17)
This is a great spot to take a break, stretch out your legs and go on a bathroom break. Turn into Keanae Road between mile marker 16 & 17 on the ocean side and take the paved road down all the way to the end and you'll be greeted with ocean's edge for amazing views of the wild and raw Hana coastline.  This place also features lava rock and tide poles.  Be careful and don't get too close to the ocean's edge on the lava rocks, rogue waves can you hit you at anytime.  Once you're done here, head over to Aunty Sandy's for some banana bread.
Eat Homemade Banana Bread
This might sound strange but Maui is the home to best homemade Banana Bread on planet and you must try it.  It's a good snack while on the Road to Hana. They are baked to perfection and they are so moist and full of flavor (I am drooling as I type this). Try either Aunty Sandy's Banana Bread (mile marker 16 – 17 (my personal fave)) or Half Way to Hana – mile marker 17.
Wailua Valley State Wayside (mile marker 18 – 19)
Look for a set of hidden stairs and at the top of the stairs you'll get a gorgeous view of Wailua Valley, Keanae Peninsula and water falls.
This state park has plenty to see and it also has restrooms!  The park is 122 acres featuring an unique Black Sand beach, lava tube on the right hand of the beach, a blowhole, volcanic tubes, a bird sanctuary, lava arch and a fresh water cave for a refreshing dip.  The Black Sand beach has strong currents, so not ideal for swimming if you're not a strong swimmer
Visit Hana Town
On the Road to Hana you've got it make a stop at the actual Hana town. This is a small and quiet town but it has a lot to offer.  You can swim at Hana bay, grab lunch, fill up on gas (only place on the Road to Hana), shop at the local stores or visit the Hana Cultural Center on Keanini Street for free.  On your way out of town stop by Hamoa Beach for some photo ops.
Red Sand Beach aka Kaihalulu (in Hana Town around mile marker 33)
Red Sand beach is located in the town of Hana.  The beach is made from the red and black cinder crumblings of the surrounding hill.  The strip of jagged lava rock sticking out of the water partially protects the beach from the rough waves. The blue waters surrounding the red sand makes it an interesting sight. The swimming and snorkeling varies.  Fortunately the times I've been to this beach the water was calm enough to snorkel and saw a wide variety of fishes but no sea turtles.  I do not recommend going past the jagged lava rocks.  Getting in and out of the water is very painful because the cinders are sharp. It feels like walking on glass so I recommend water shoes.  To make matters worse, to get to this beach requires hiking (10 to 15 mins) on a narrow trail on the side of a hill with loose gravel and some parts of the trail is along the shoreline (do not attempt to hike to this beach if waves are rough along the shoreline).
2016 Update:  The trail to this beach has become seriously dangerous resulting in injuries requiring air rescues once a month.  I no longer recommend this beach but still list it here for informational purposes only.
West Wailua Waterfall
8 miles south of Hana Town is the most iconic and photographed water fall in Maui.   It about 80 feet tall with a plunge pool. It's very easy to see without having to hike, you can see it from the road!  You cannot miss it because you'll see a crowd of people on the bridge trying to snap photos of it. The bridge is part of the Road to Hana, so please don't stop your car on your bridge to take photos. Fortunately there's a small parking lot right next to the falls, so park first then you can take all the photos you want.  What is also great about this spot is there are few local vendors that sell handmade jewelry, arts, crafts and other Hawaiian nick knacks.  You should do your souvenir shopping here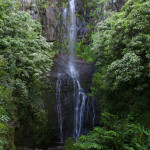 Hike Pipiwai Trail & Waimoku Falls (mile marker 42)
Pipiwai Trail runs through Seven Sacred Pools and a Bamboo Forest, ending in a large waterfall coming down from Haleakala summit. The trail is about 4 miles round trip from the parking lot to Waimoku falls and back. So it will take about 2 to 3 hours depending on your pace and how many stops.  I would rate this as medium hike because there are parts that can be steep, rocky, and slippery.  So please wear proper hiking shoes.  Pipiwai Trail is part of the Haleakala National Park so each car will need to pay a $15 entrance fee.  However if you did the Haleakala Sunrise, keep your parking ticket as you can use it at this side of the park within 3 days of purchase.
Oheo Gulch aka 7 Scared Pools (mile marker 42)
Also located at Haleakala National Park (Hana side).  It is typically the last stop that most people make before turning around and heading back home. Also it was one of the most popular attractions in Hana. So by afternoon time this place will be packed unfortunately.  There are actually more than 7 pools, but these are the main ones.  The pools are filled by nearby waterfalls.  If the conditions are calm you can swim in them too!