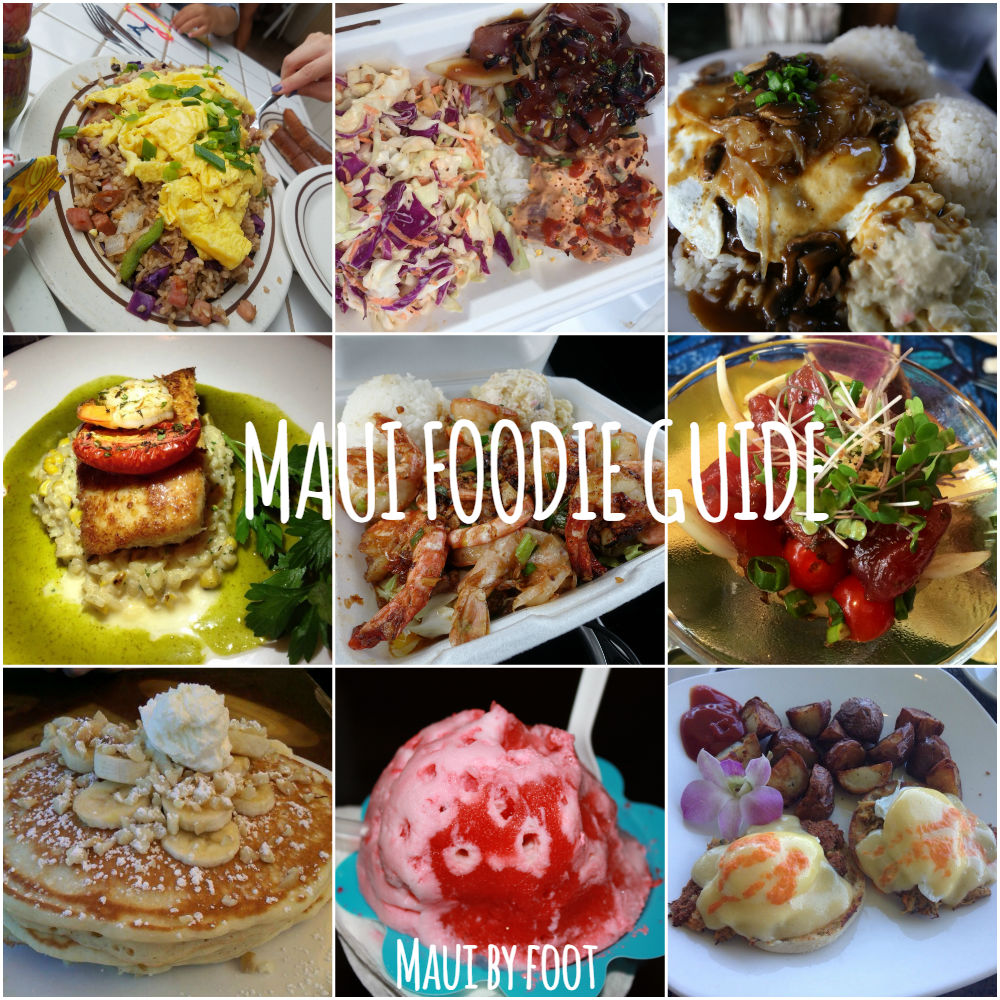 If you're traveling to Maui and are overwhelmed with all the food options, I got you covered! This Maui Foodie Guide will show you how to eat your way through the island like a local at some of the best eateries on the island. If you're like me, anytime I plan a trip one of the first thoughts that crosses my mind is what delicious food can I try?
For the past decade Maui's culinary footprint has exploded. There's no shortage of delicious variety to choose from. The island has a great mixture of Hawaiian, Asian, Mexican and of course fresh seafood. This Maui Foodie Guide will share hearty local dishes to award winning restaurants! Some of the island staples such as poke, kalua pork and loco moco are a must try and you won't find their unique flavors on the mainland. Trust me, I've searched high and low to find to places that can replicate the island flavor on the mainland and it is just not the same.
Every place I have listed in this Maui Foodie Guide, I've have personally eaten at and recommend without a doubt. This is not some curated list from online reviews. There are so many great places to eat at on Maui, I am starting to salivate so let's get started! 🥁
Breakfast 🥞
Kihei Caffe
Kihei Caffe is a favorite joint among the tourists and locals. This is a great spot to get a hearty breakfast that is not too heavy on the wallet. Kihei Caffe has the best banana macadamia nut pancakes and the most delicious Loco Moco on the island hands down. The pancakes are super fluffy and the caramelized bananas must have crack in them!
The original location is in south Maui, Kihei which is across the street from the beach. They're so popular that they expanded and now have a location on the west side of Maui, Lahaina! Don't let the long lines discourage you from eating here. They have their operation down to a science, so the line moves quickly. You pay when you place your order, find a seat and they bring your food out. This is an excellent spot to try local cuisine without spending top dollar.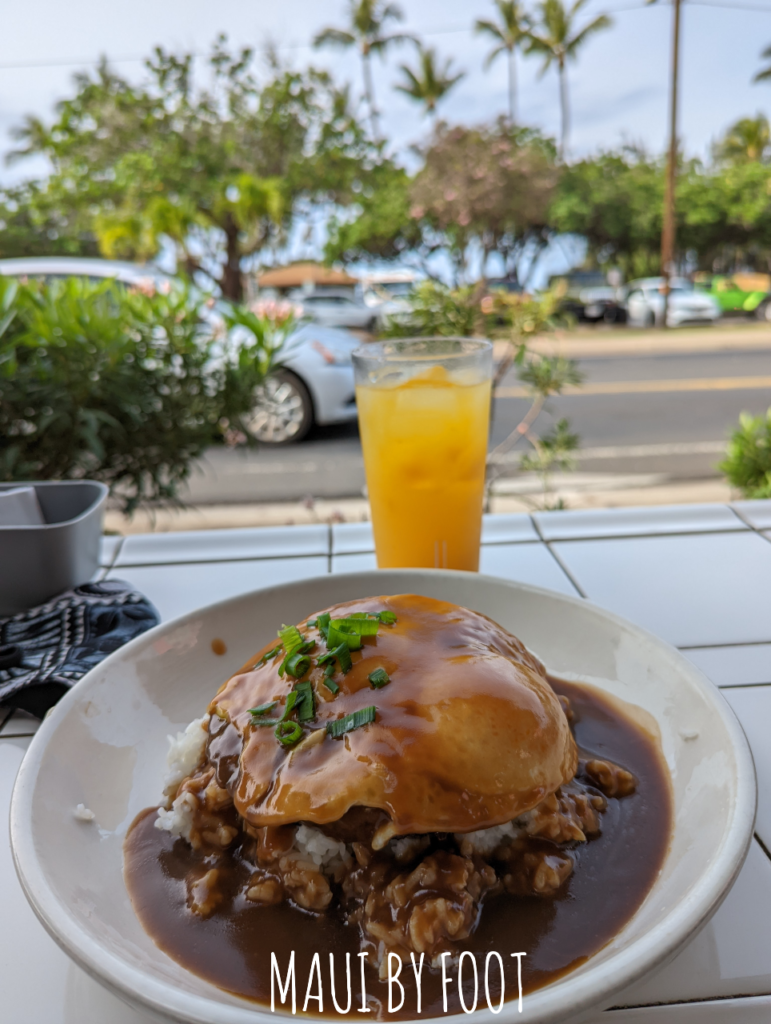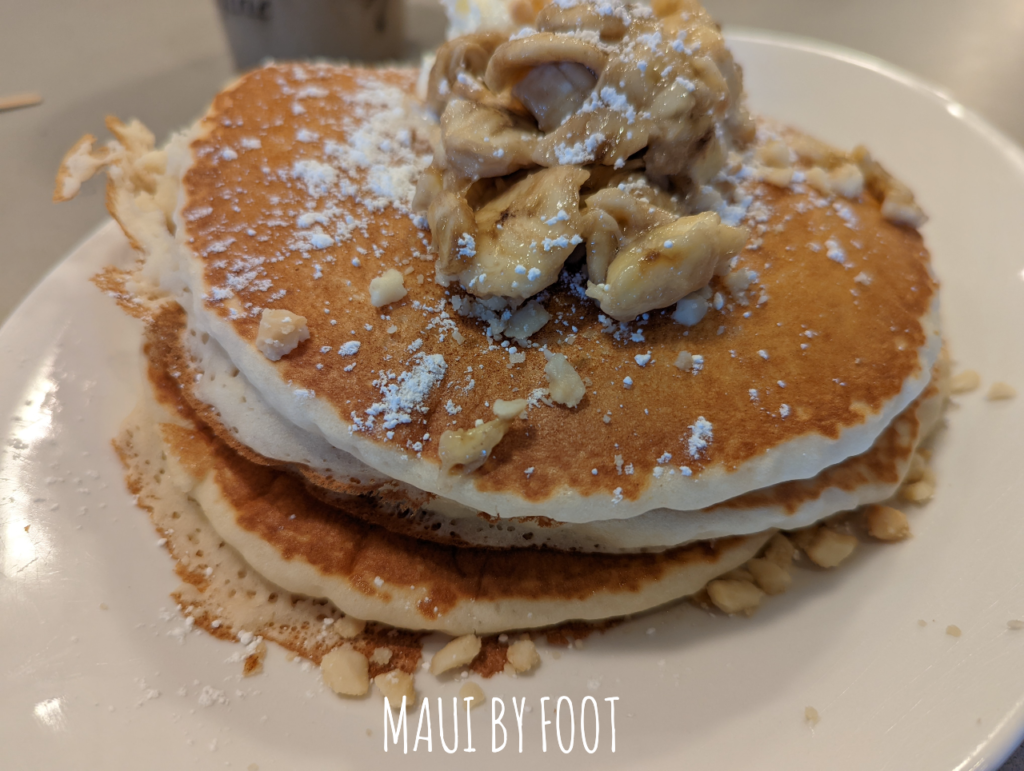 Gazebo Restaurant
The Gazebo Restaurant is small joint with only like 11 tables on the west side of Maui. But the food, the view of Napili Bay, and service are excellent here! With that mind, go a little bit before opening (7:30am) to avoid the long wait. Fortunately, they have fresh coffee for the line waiters. If you're lucky you might see a dolphin or two in the distance as you wait. Their Hawaiian Fried Rice, Macadamia Nut Pancake, and Big Kahuna Omelette are highly recommended here.
If you go during breakfast peak time (730am to 12pm) expect to wait to 1+ hour for a table. So be prepared to stand under the scorching heat or be drizzled on. Pro-tip, go after 12pm for a shorter wait or you can also order to go. Parking is a pain and difficult. It shares a parking lot with the nearby hotel but there's limited spots specifically for Gazebo and other spots are for the hotel. The Gazebo parking spots are located at the far back of the lot on the right side, 3 to 4 spots only. There's also street parking on Hui Drive.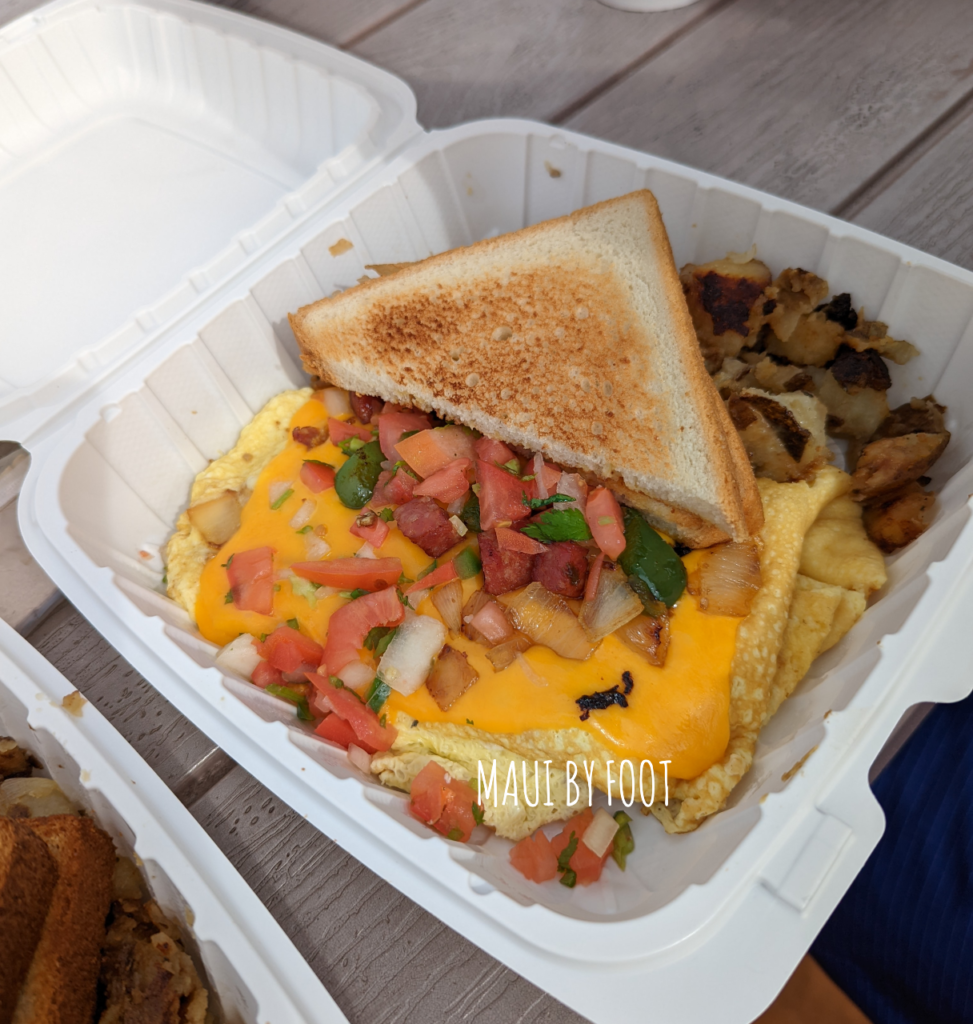 Lunch 🥪
South Maui Fish Company
South Maui Fish Company is a food truck that serves fresh local poke, fish tacos, and other grilled fish at affordable prices. Fresh fish is brought in every day from being caught that same morning, and prepared with great love! They sell out everyday, usually by 3pm. Their delicious poke combo platter consists of two different types of poke in a bed of rice with a side of pineapple/coconut coleslaw.  You can also get their fresh grilled fish plate or pick up some fresh fish take home to grill yourself. The Fish Tacos are also incredible here. They are fresh and cooked perfectly. They located in the courtyard of the Aloha Open Market (parking in the rear), across the street from the Kukui Mall Shopping center.  So the food truck won't be visible from the street.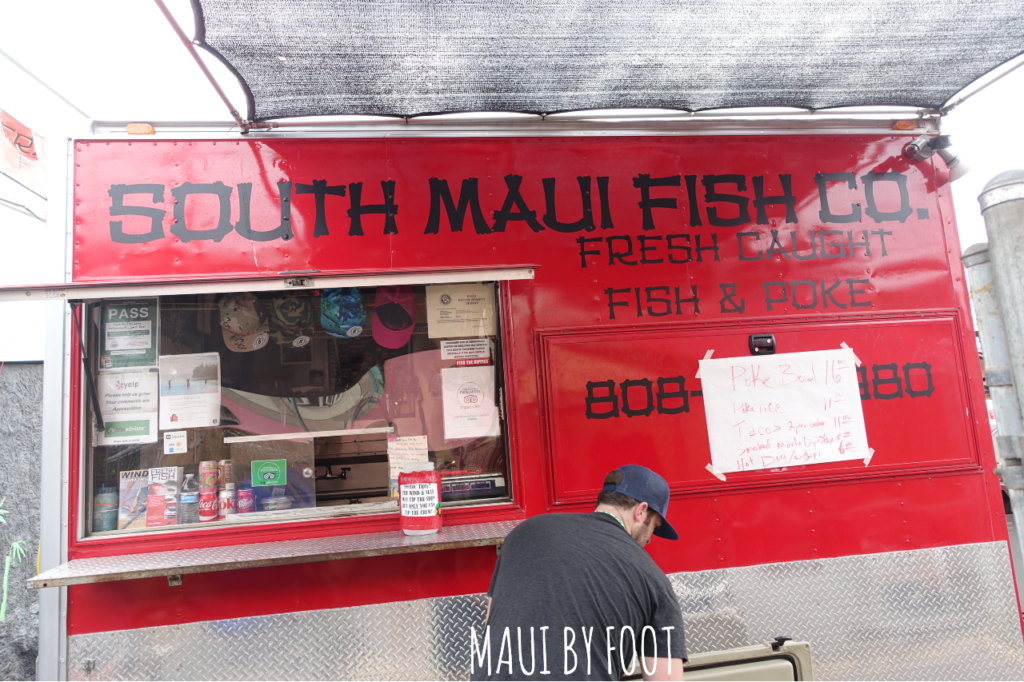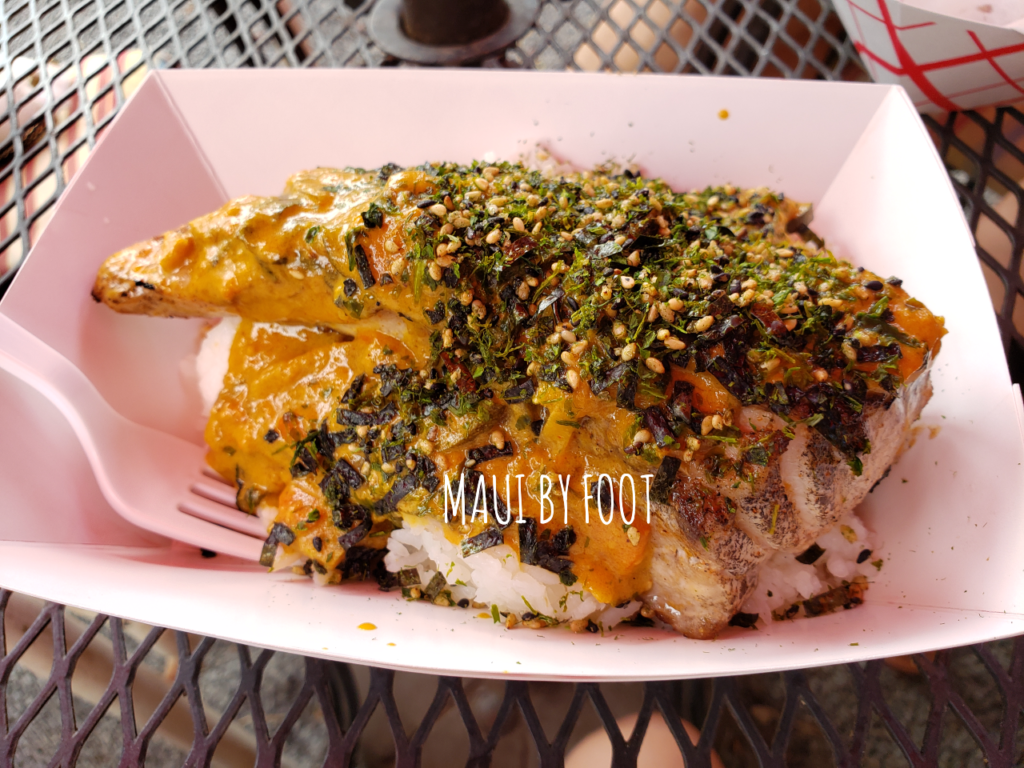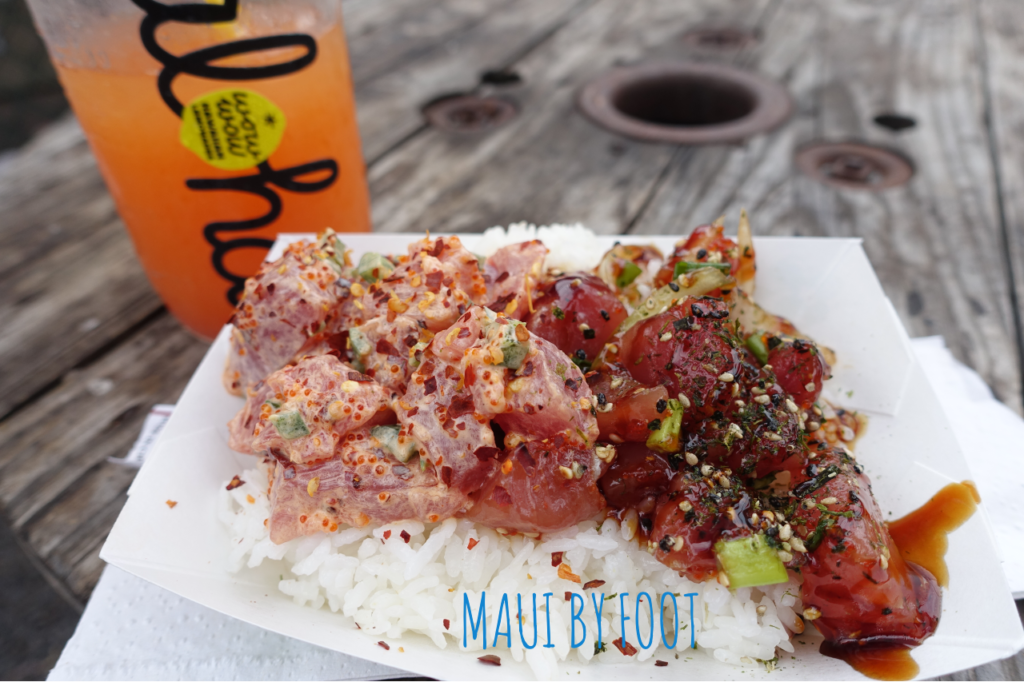 Geste Shrimp Truck
Geste Shrimp food truck serves fresh finger-licking good shrimp plates and not to mention their mac salad is to die for.  You know a place is good if even the locals eat here.  This is my favorite place to eat in Maui and is must try from this Maui Foodie Guide! Flavors here are something you cannot find on the mainland. They cook the shrimp when you order so it's always fresh and tasty!   Favorites are the Hawaiian Scampi and Spicy Pineapple.  They were voted best food truck 2 years in a row.   They are cash only.
Their new location is across the street from Costco at a dedicated food truck area. There's dedicated parking, shade and table/chairs to eat with other eateries. Pro-tip, call ahead to place your order before heading there. A great lunch spot after landing in Maui. It's only a couple miles from the airport.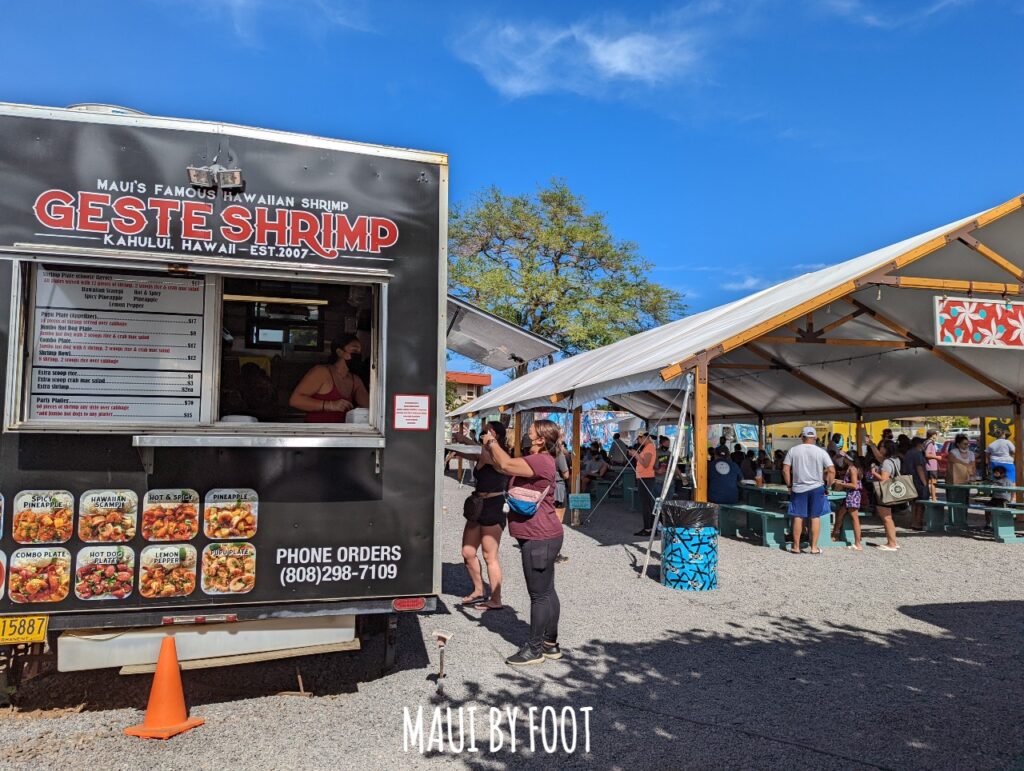 Sam Sato's
Sam Sato's is a legendary local favorite and they're known for their saimin. It's Hawaiian's version of ramen. But the noodle has more eggs and a higher concentration of ash. These ingredients give the noodles an intense flavor and a chewier texture. The noodles are typically served in a clear broth along with a simple meat like char siu pork. They also have a dry saimin without the soup and it's like a chow mien. The menu is straight forward and they have other Hawaiian favorites such as loco moco, bbq lunch plates and mac salad.
Sam Sato's provides solid Hawaiian comfort food for a reasonable price. This joint is a no frills spot. It has a tiny parking lot and if you come during peak time, the wait can get pretty long. There's also street parking available. Cash only spot. It's only a few miles from the airport, great place to grab lunch after landing or before a flight.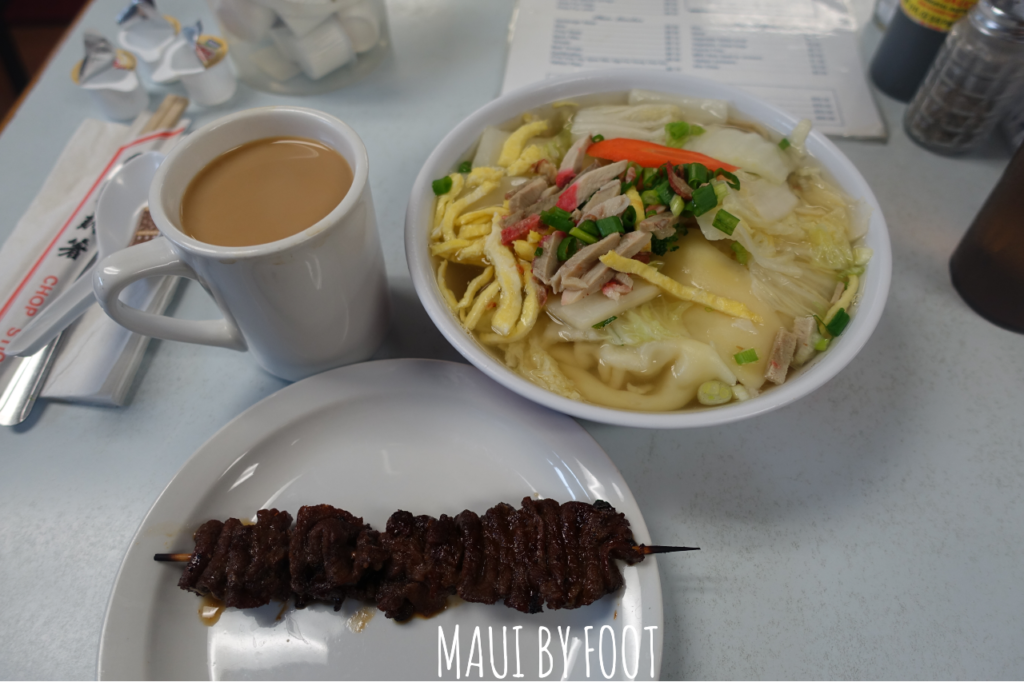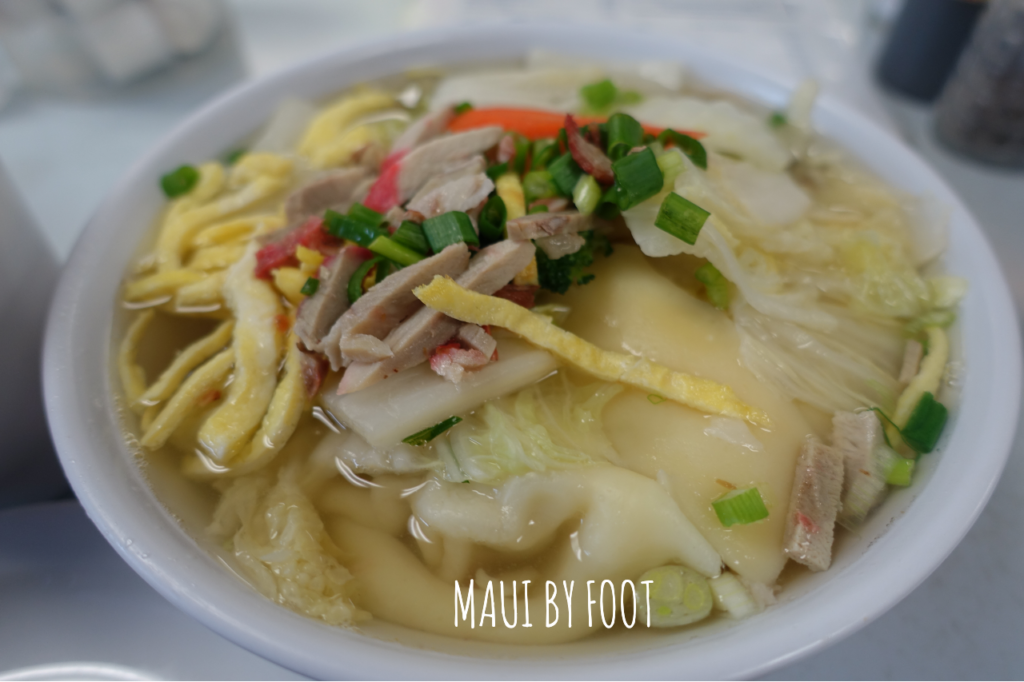 Tin Roof Maui
I start to drool every-time I think of Tin Roof Maui. It serves up local comfort food by internationally recognized Chef Sheldon Simeon with at affordable prices. The Mochiko chicken with white rice and cabbage is a must try from this Maui Foodie Guide. The chicken is beautifully fried to a crisp. Their sauce is sweet and savory, absolute perfection. It is very filling – a perfect comfort food as well as a side of Mac salad. Only $10 for the chicken meal! You won't find this unique flavor on the mainland.
Their indoor dining space is very limited, only a few seats. You order and pay at the registered or pre-order over the phone. Then pick it up and you can eat at a few benches outside or drive to the beach or sit in your car and eat it…anywhere you eat it it will be delicious. The portion sizes here are wonderful. Each bowl can be shared with 2 people. It is only a couple of miles from the airport. So another great spot to grab lunch after landing or before a flight. I sometimes order to go for my flight back to the mainland and people around me on the plane stare at my Mochiko chicken with jealous and hungry eyes.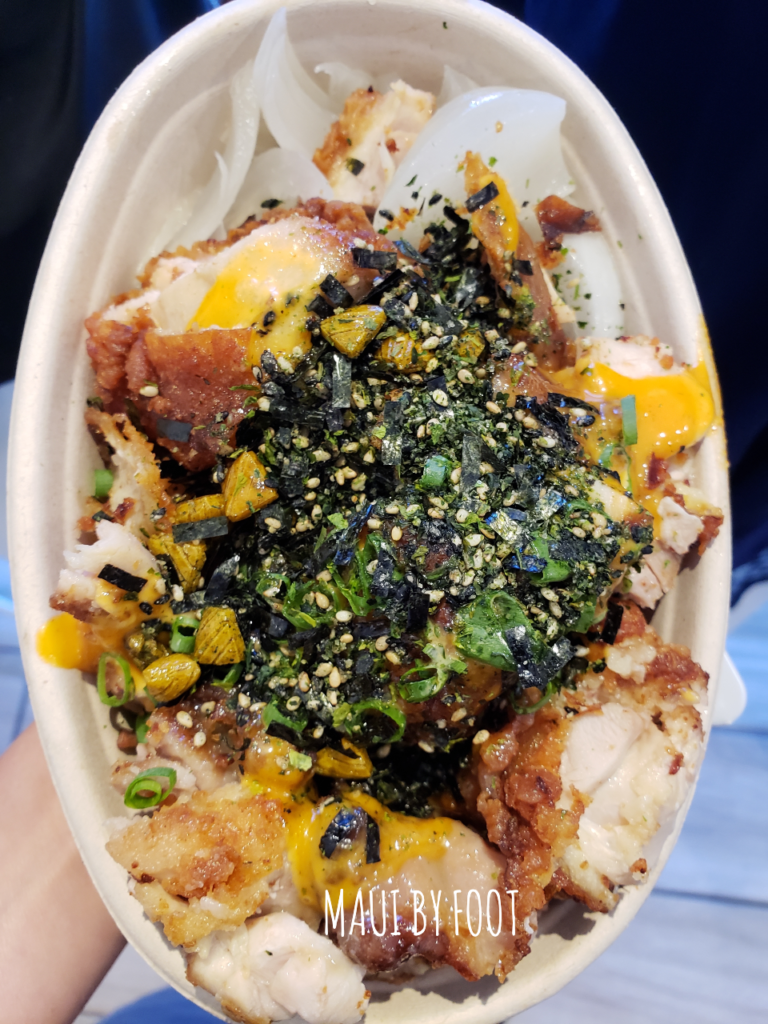 Dinner 🍽️
Star Noodle
Star Noodle continues to be one of Maui's most popular eateries for the last decade. They are known for their fresh noodles and asian inspired plates. They serve up family style unique island flavors. I highly recommend getting reservations. They are usually booked out 3 to 4 weeks in advance. You can also try your luck during off hours like 3 to 5pm. They have a small 8 person bar seating for walk-ins.
I try to come here every-time I am in Maui and eat something different. Some of my favorites and recommended dishes are: Steamed Pork Buns, Hapa Ramen, Star Udon, Garlic Noodles, and Singapore Noodles. Everything is seriously amazingly delicious here, you can't go wrong with anything you eat here. You can also get a reusable bamboo straw for $1 to take home with you!
They moved to a new outdoor location right on Front Street in Lahaina. The space is much bigger and there's an ocean and sunset view. This place is an absolute must-try on this Maui Foodie Guide!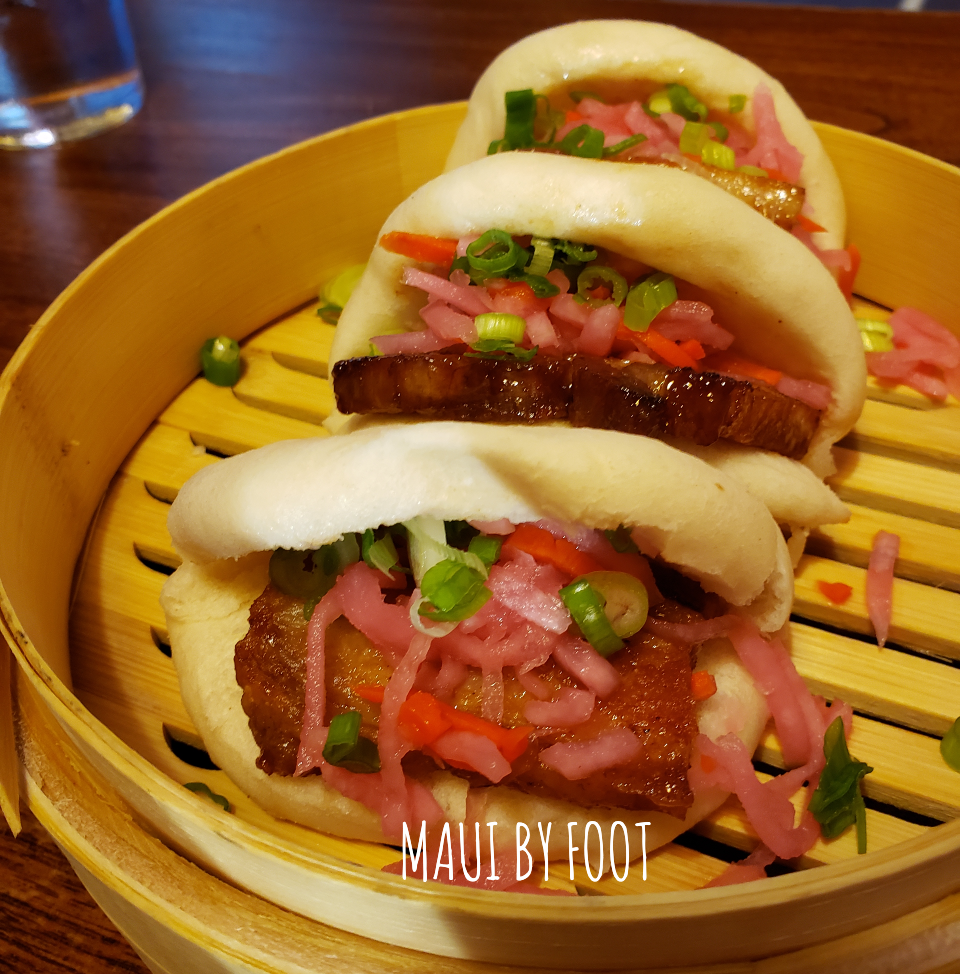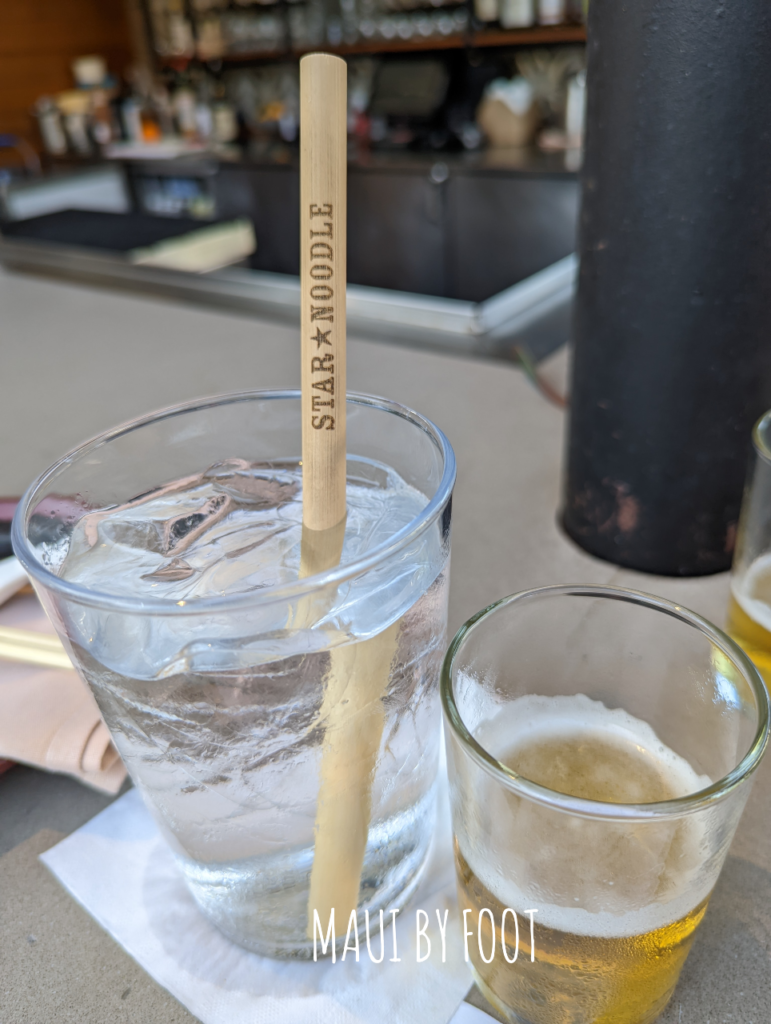 Monkeypod Kitchen
Monkeypod Kitchen offers a unique atmosphere with live music and delicious cuisine using Maui grown ingredients to support the local community. They serve traditional American cuisine with a Hawaiian twist. The Mai Tais are incredible here and all of the food was incredibly creative and tasty. I recommend getting the Monekypod Mai Tai. It is topped with a lilikoi foam that adds a delightful frothy texture and an added hint of flavor. For food I recommend the chicken wing, poke tacos, Kalua Pork & Pineapple pizza (spicy), Bulgogi Pork Tacos and Saimin.
Monkeypod Kitchen is extremely popular and unfortunately they do not take reservations. First come, first serve. During peak hours, expect to wait 1.5+ hours. However they do have daily happy hour from 3:30pm-5:00pm. Discounts on appetizers, pizzas, draft beers, wines by the glass, and cocktails. We got lucky and got seated right away at 4pm. They have 2 locations, the original one in Wailea and the newer on in Kaanapali at the Whalers Village.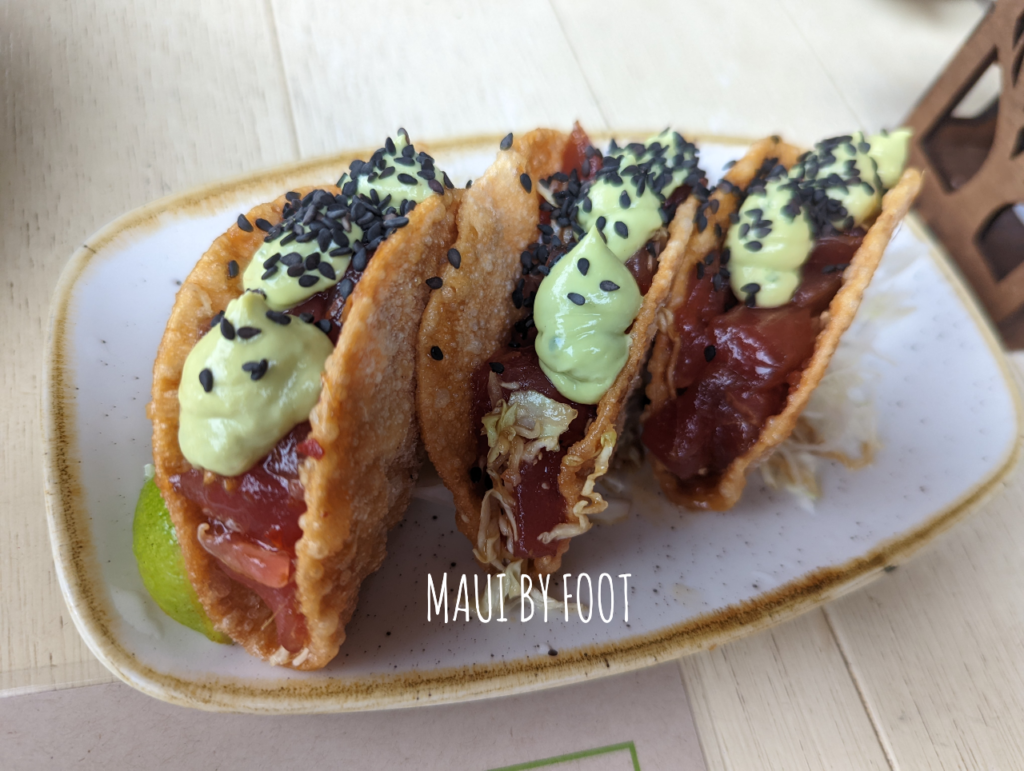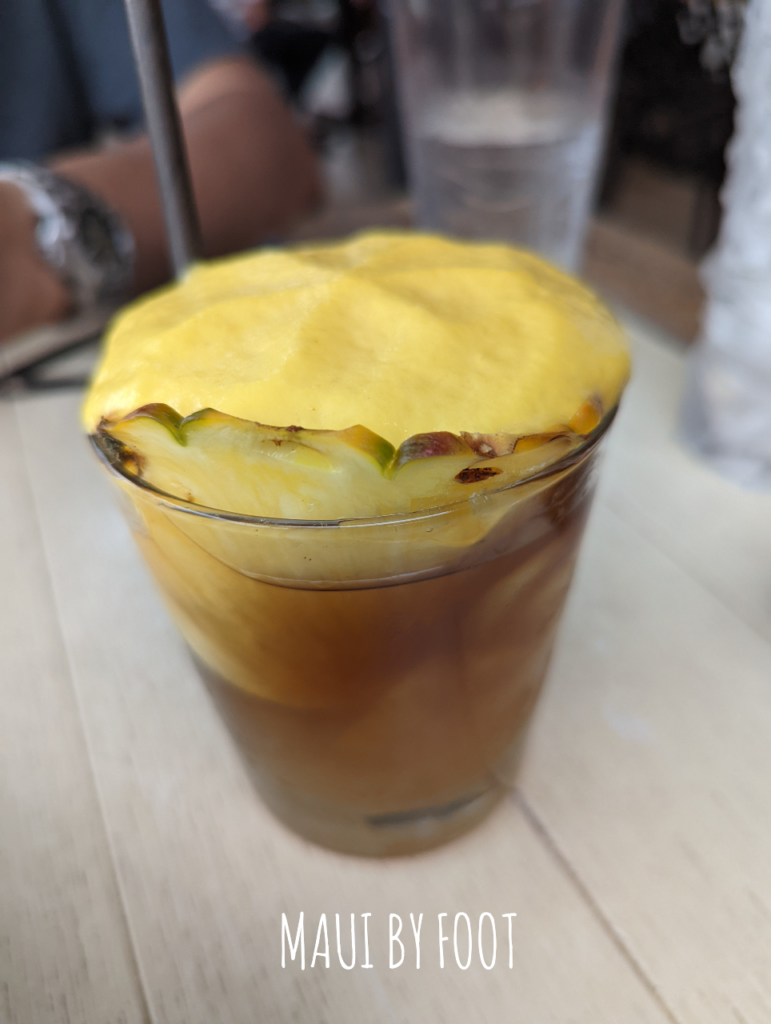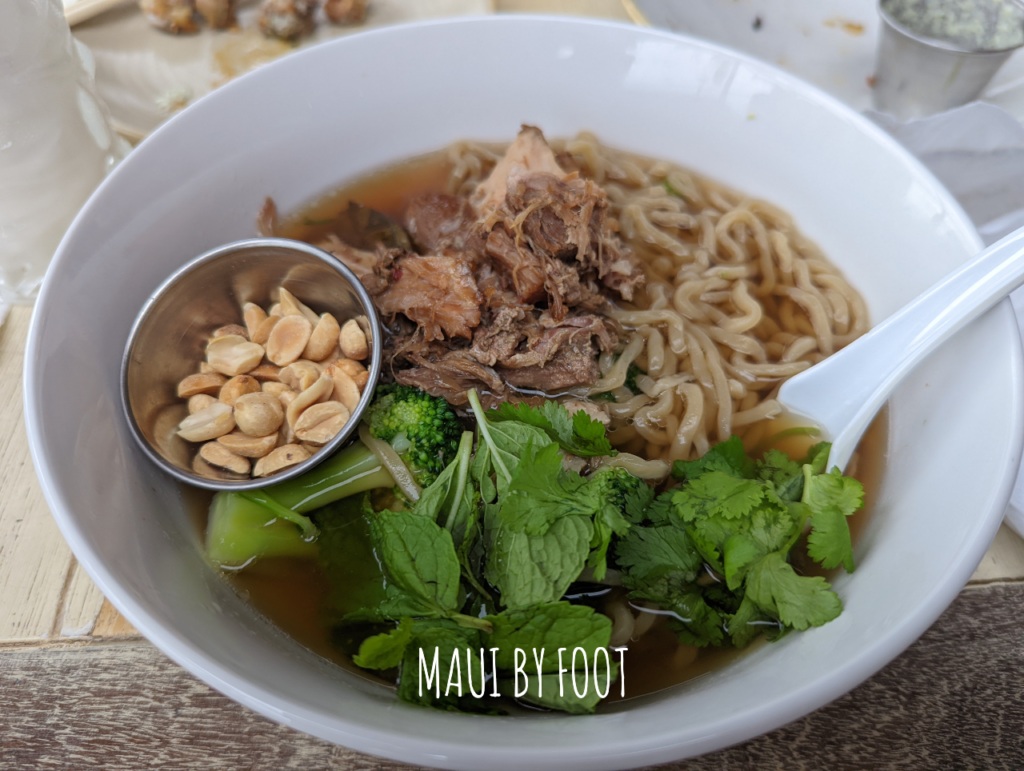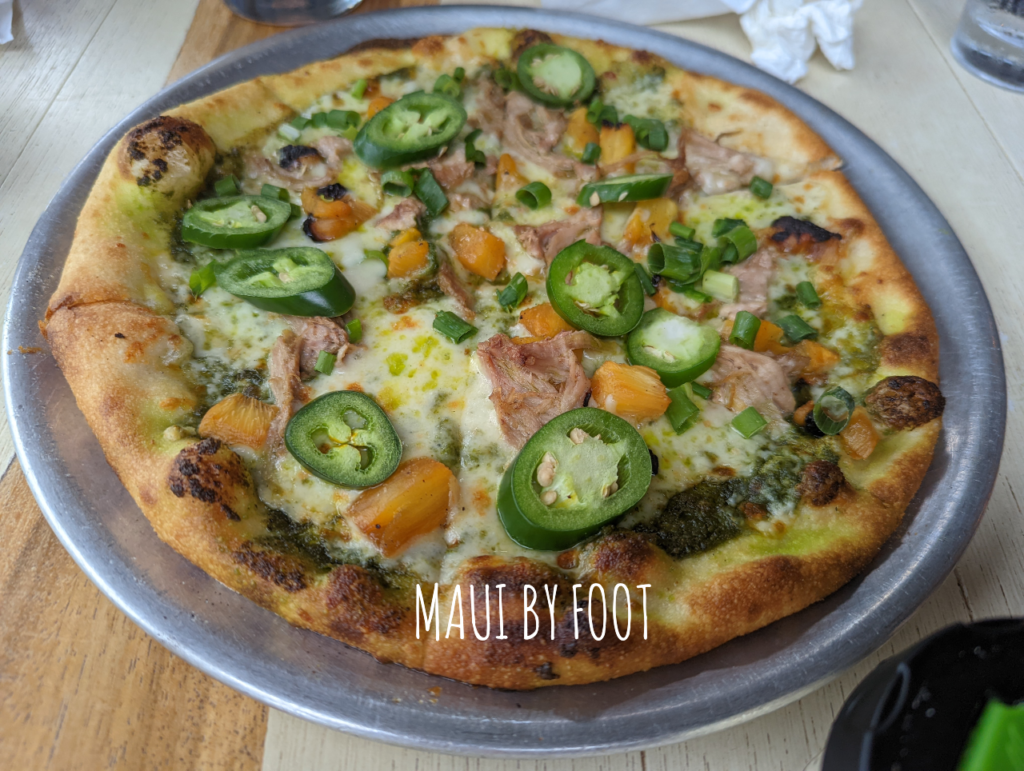 Dessert 🍧
Ululani's Hawaiian Shaved Ice
Ululani's Hawaiian Shaved Ice is the best dessert place in Maui! This type of dessert is difficult to find on the mainland and even more difficult get the texture right! They shave their ice so fine here, it's soft and fluffy not choppy like other places. You can pick from over 30+ flavors made with real sugar cane. You can add add-ons like ice cream, red bean, tapioca pearls, etc. As a topping, the snow cap (condense milk) is a must! I recommend trying Lahaina, Haleakala and Lahainaluna. You can also build your own! The shave ice makers are also super friendly with an Aloha Spirit. The line is always long here but worth the wait. There are several locations throughout Maui and one conveniently near the Kahului Airport.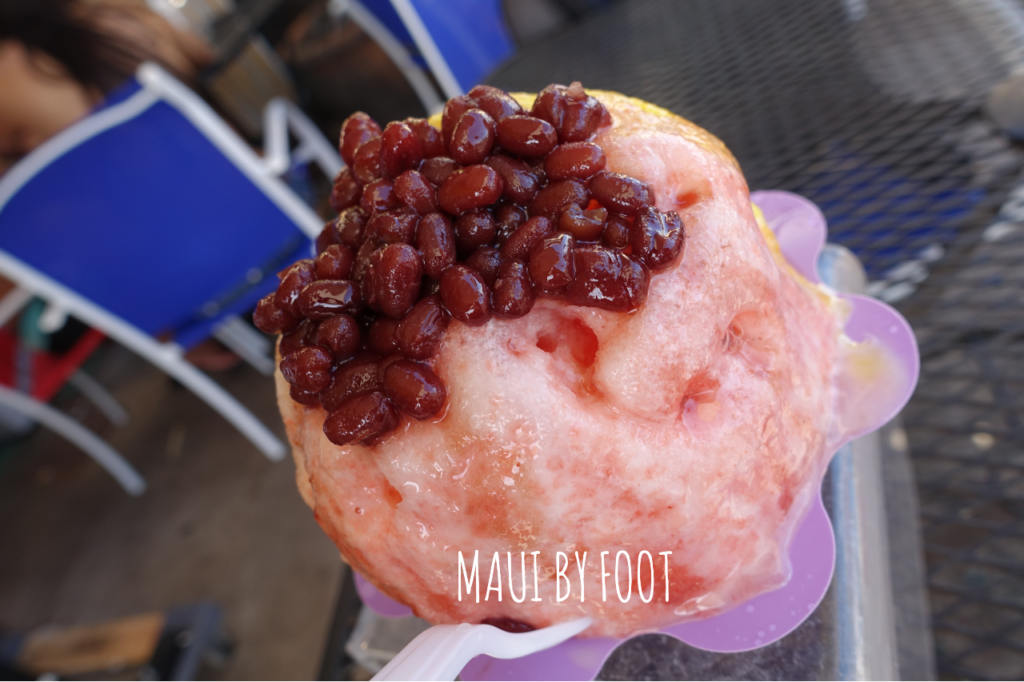 Did you eat at one of the places from this Maui Foodie Guide? If so, please drop a comment to share your experience and what you ate! 🍲