Despite Maui being small compared to other mainland states, there is certainly no shortage of delicious food on this island.  On a recent trip to Maui, I still discovered new places to eat that were unique and amazing!  So everything you read and see in this post is BRAND NEW places that aren't listed in my previous posts like Maui Cheap Eats, Maui Foodie Guide or Maui Best Restaurants. I am quite shocked that I haven't discovered some of these places sooner. I am literally going to help you eat your way through Maui! #traveltoeat
Down the Hatch (DTH) features locally sourced Fresh Fish with a Southern Aloha twist!  They are known for their Fish n' Chips, Mahi Mahi Tacos, Ahi dishes and Shrimp Po'Boy.  Located in Lahaina, DTH is one of the newer restaurants in Maui, opened in 2015.  They offer a full bar with local beer and handcrafted cocktails.  They also have Happy Hour EVERYDAY from 2pm to 6pm and popular Hawaiian cocktails like Mai Tai, Pina Colada and Lava for only $5!  It's all outdoor courtyard seating, so it is a great place to sit back and enjoy some food and drinks.  I went here for Super Bowl LI and it was packed!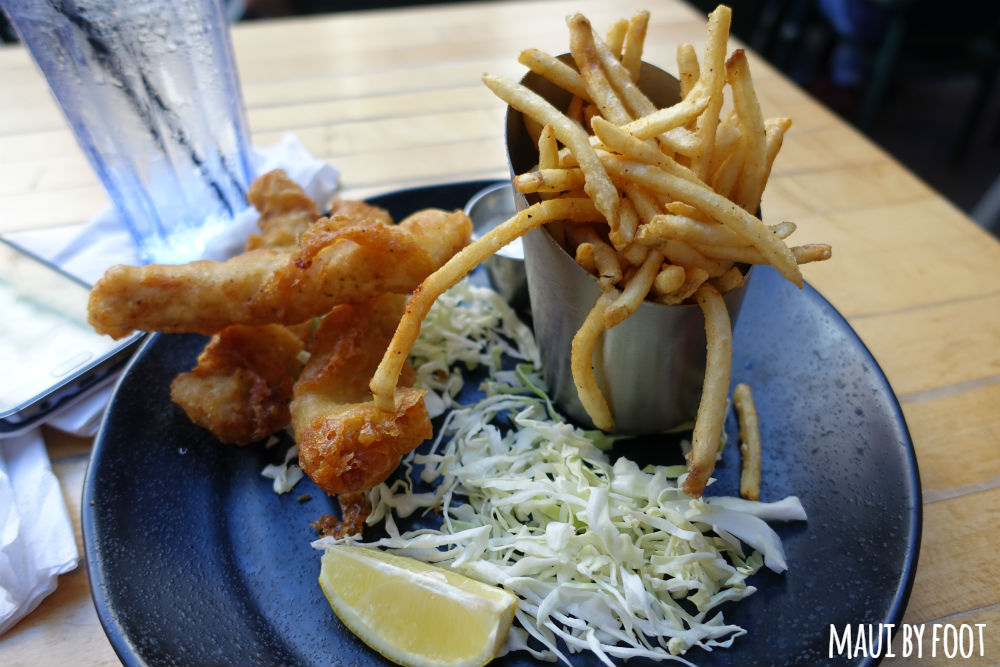 (Fish and Fries)
I am a bit sad that I haven't discovered Slappy Cakes sooner.  But this place is a great breakfast joint for families.  The concept at Slappy Cakes is unique and fun!  It's like Korean BBQ but with Pancakes.  Genius or what?  First, you pick your batter (buttermilk, chocolate, seasonal or vegan/gluten free).  Second, you pick your fixings like fruits, candy, nuts, etc.  And lastly, you select your toppings whip cream, syrup, bacon, etc.  At each table, there's stove in the middle.
You essentially become your own creative chef and cook your pancake however you like!  I've seen some people make some interesting things out of their pancakes like dragons, Mickey Mouse, and Batman.  Unfortunately, I was starving and getting hangry when I got there, so I didn't feel like cooking.  But instead I got their Slappy Moco and OMG … it was amazing!  It was the best Loco Moco I've had in Maui hands down.  They must have some crack in their gravy. They are located just a bit north of Kaanapali.  The kiddies will LOVE this place, guaranteed!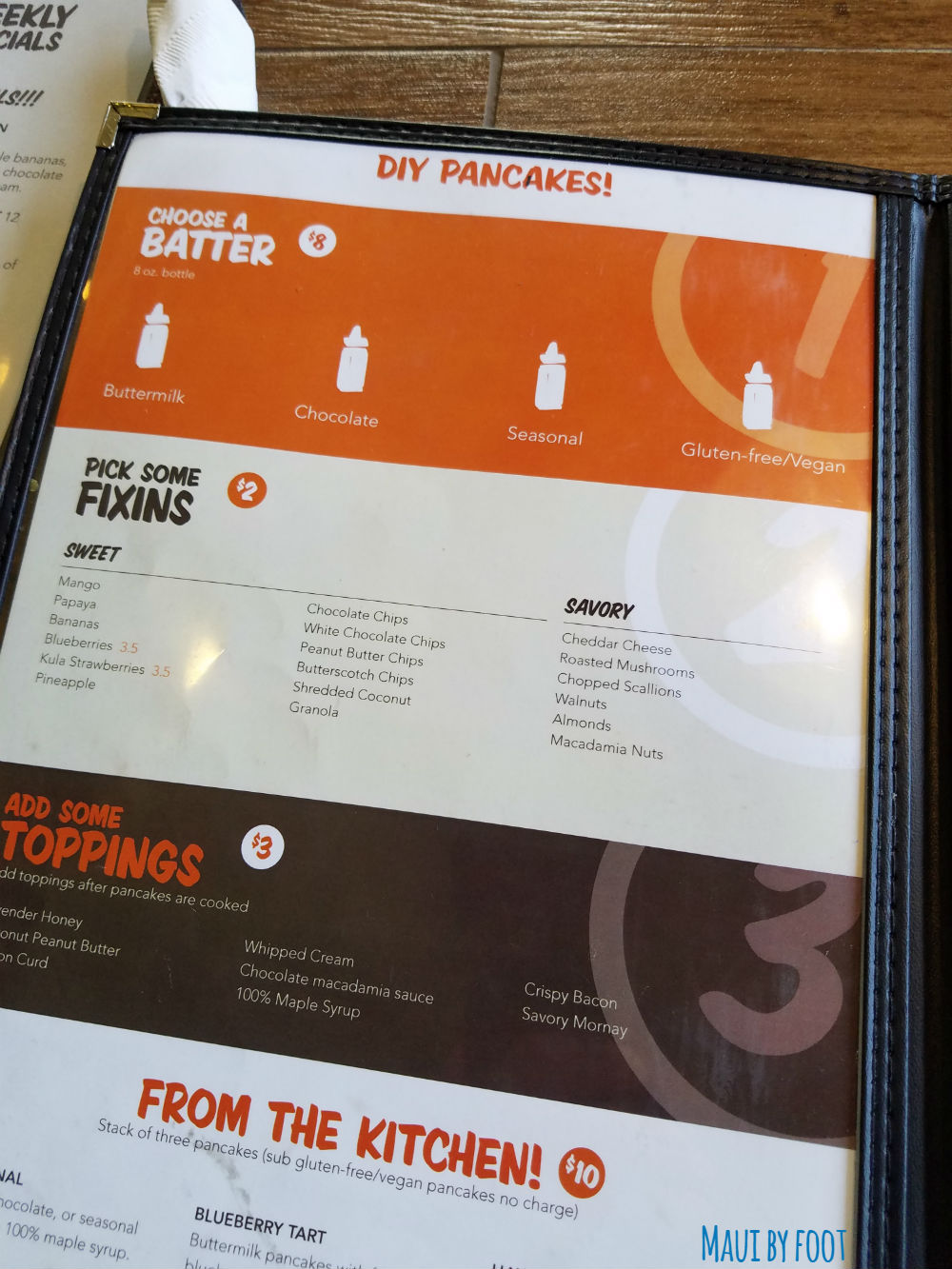 .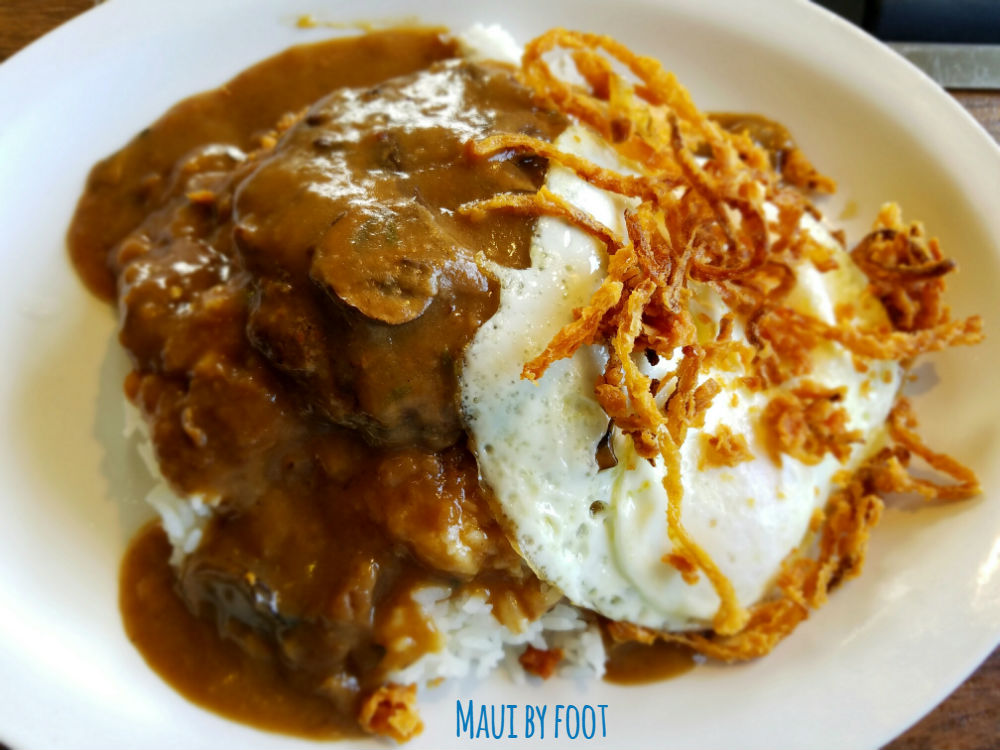 (Slappy Moco)
Wow, another great place I wished I discovered sooner.  A great pit stop for some salad, sandwiches and their HOMEMADE PIES!  All their pies are delicious and savory.  But my favorite is their Banana Cream Pie.  I don't usually like bananas unless eaten by itself. But Leoda's somehow is able to make me like the soft slimy fruit in a pie.  Leoda's is located on HWY 30 as you drive into Lahaina.  So before you head to your west side accommodation, make a pit stop here for some yummy pies! Try to get here early in the day, they do tend to sell out of their pies.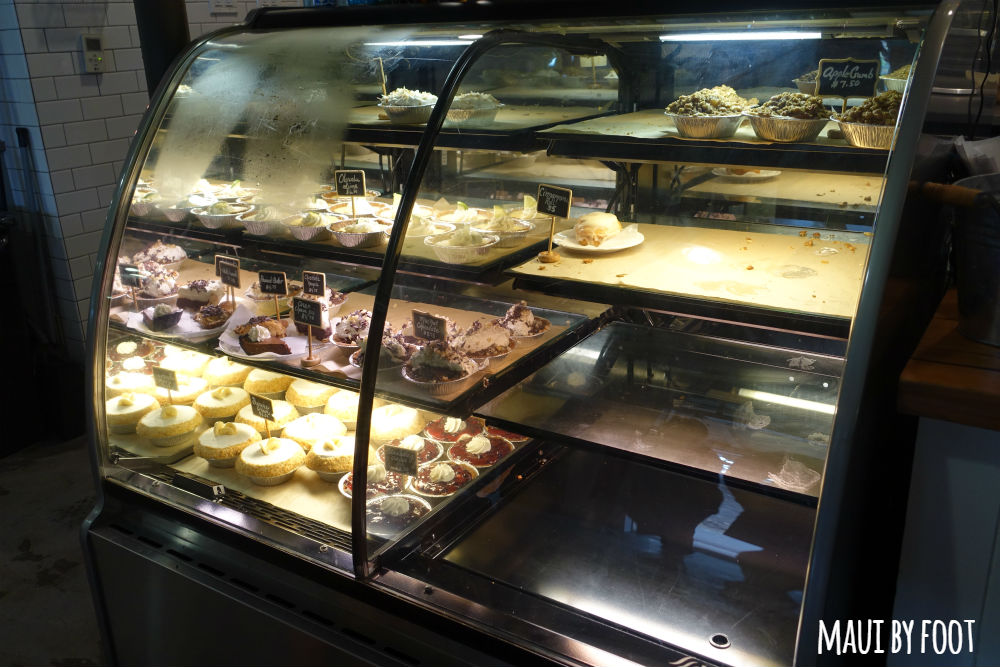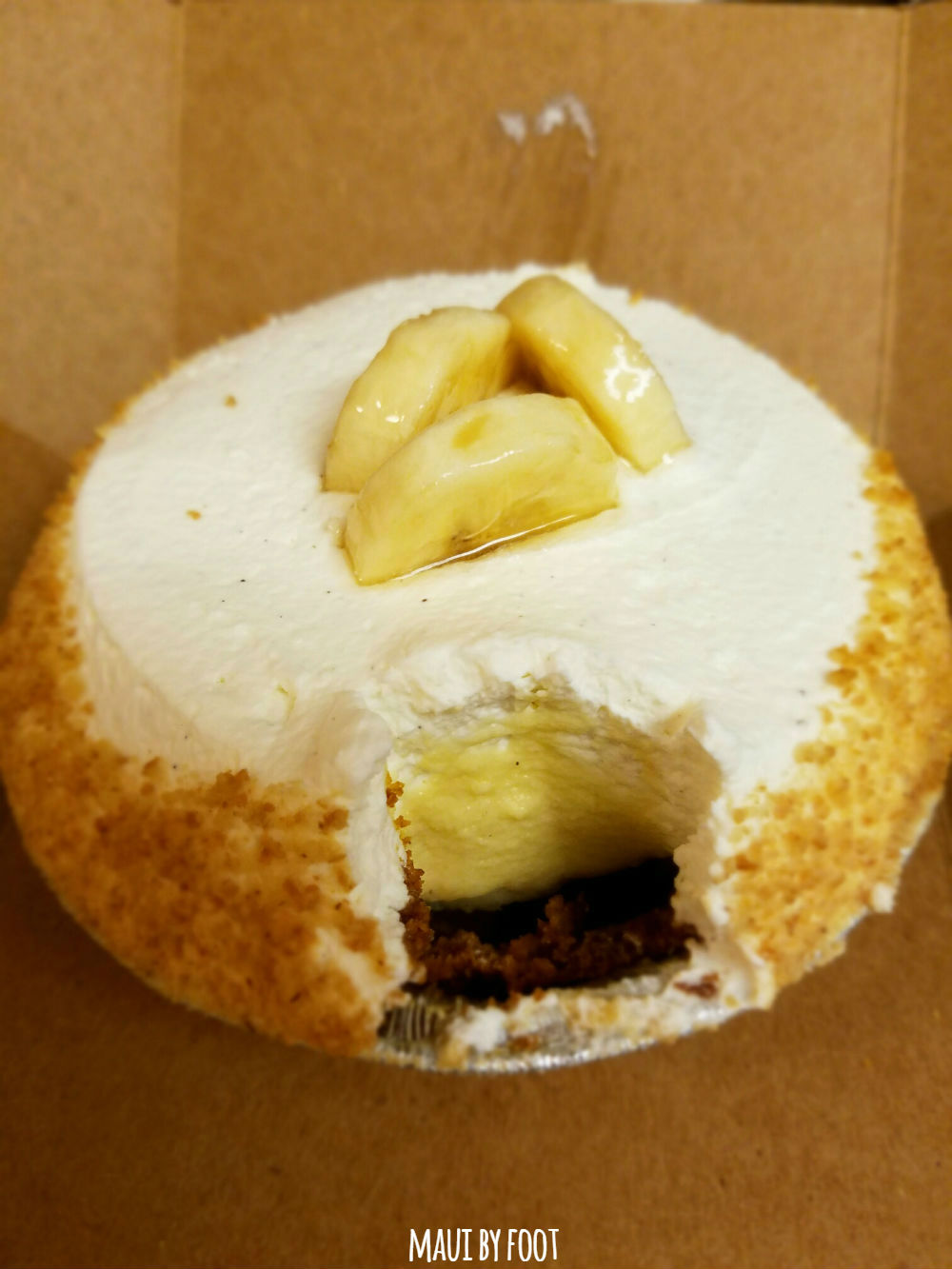 (You know you want a bite!)
All you crafty beer lovers will fall in love with this place. As the restaurant name suggests, it is a place with a fun atmosphere with a wide variety food items and locally brewed beer on tap! Their popular beers are Imperial Coconut Porter, Coconut Hiwa, Pineapple Mana Wheat and POG IPA (maybe seasonal). If you're undecided, you can always get sampler flight. If you sit at the bar, it has a sheet of snow where you can put your drinks on so it always stays cold, very cool! Personally, the food here wasn't anything to rave about.  But overall a good place to visit with tasty beer and some decent pub food! You can also buy beers here to take back to your hotel.  (Insider Tip:  The same beers are sold at Foodland for cheaper!).  They are located in Kahana, just north of Kaanapali.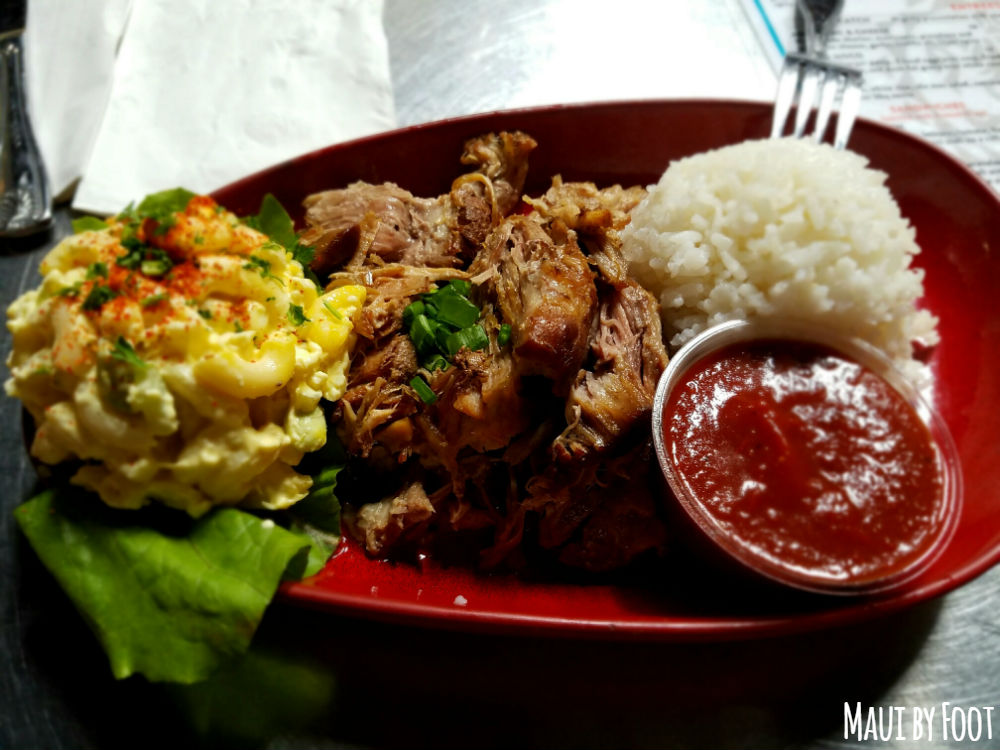 (Pub Plate – Kalua pork, white rice, ulu mac salad with coconut hiwa porter bbq sauce)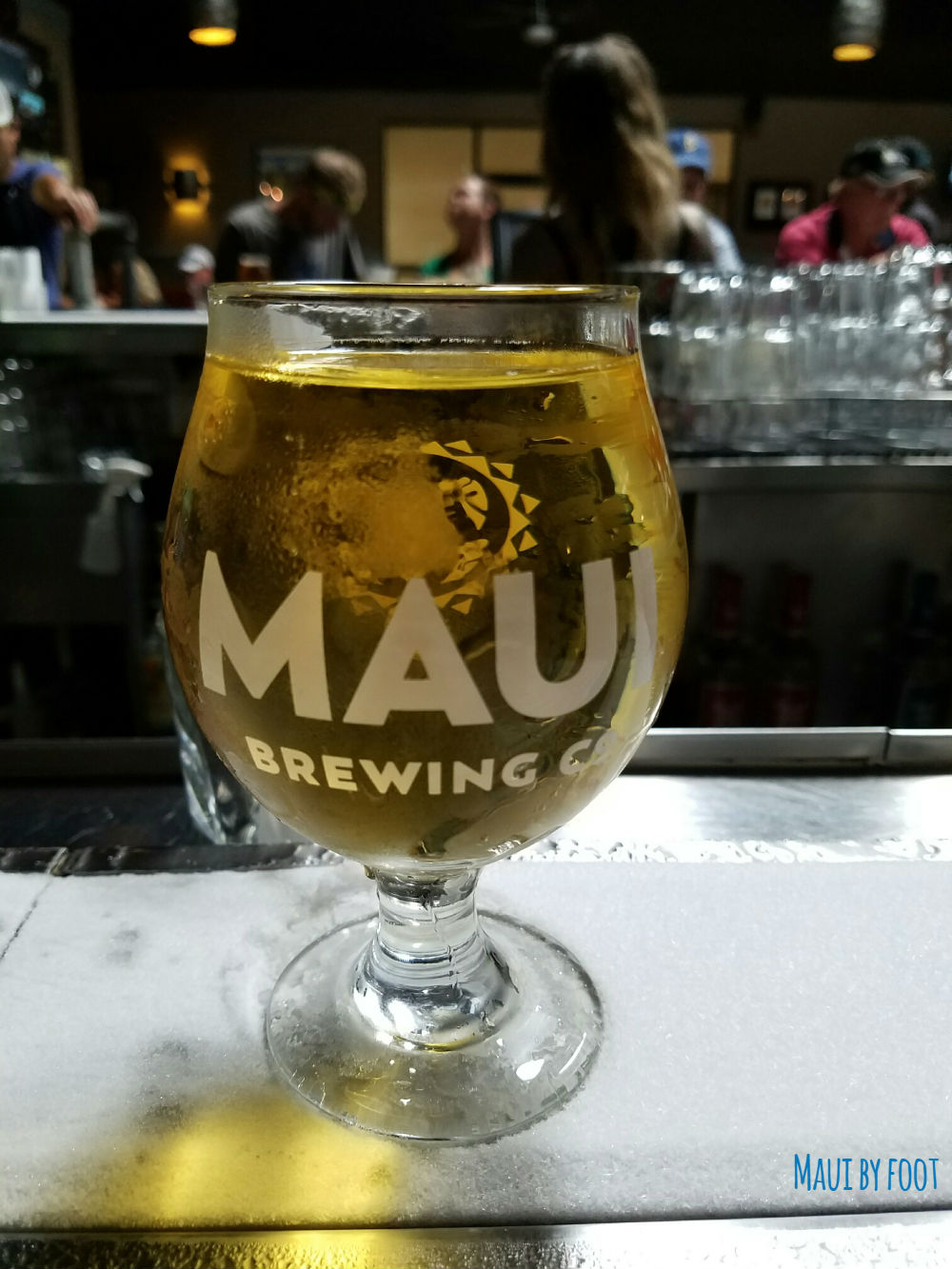 WOW, can't believe I have never been here!  A perfect place to get refreshing Lemonade and taste the beauty of the island in cool mason jars.  The jars make great souvenirs that you can actually use every day back home. This place really understands the art of quenching thirst by making amazing fresh Lemonade and they have about a dozen variety of lemonades.  Such a fresh treat when you're roasted from being in the sun all day.  Their most popular lemonades are Watermelon Basic, Lava Flow and Strawberry Lilikoi.  But be warned, after purchasing the lemonade and the mason jar, it will be the most expensive Lemonade you have ever bought!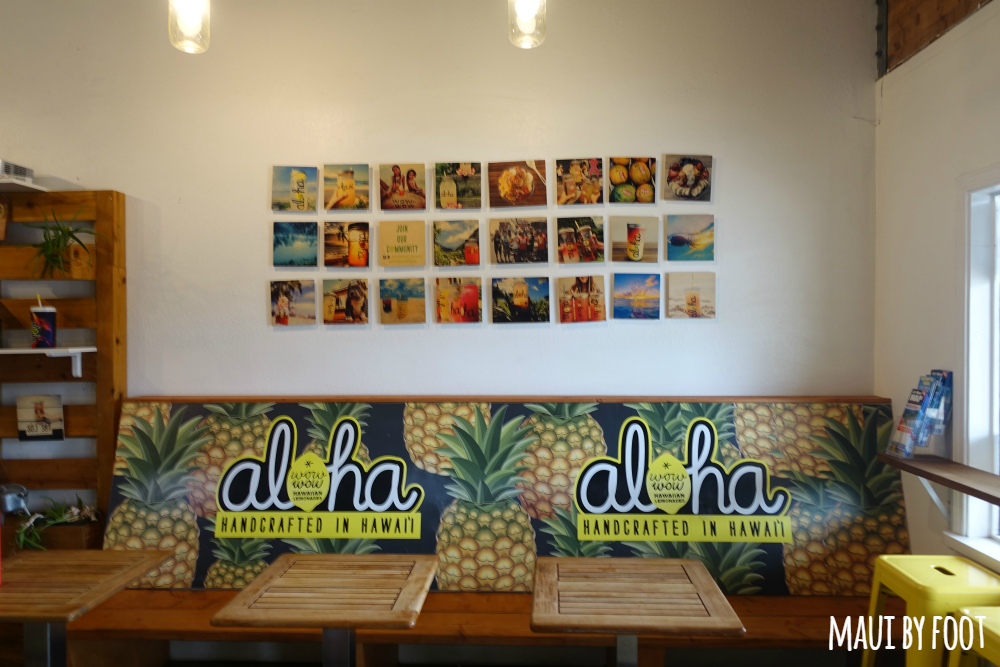 (Strawberry Lilikoi)
Saved the best for last! Located just a couple miles from the Kahului airport, Tin Roof Maui is owned by Chef Sheldon, who is also the owner of Star Noodle (one of my faves too) and Leoda's (new fave!).  Tin Roof Maui opened in 2016 and it has been extremely popular ever since.  It is run like a mom and pop shop and the food is local Hawaiian with a modern twist.  Despite the place being very small (only 6 to 8 bar stools for seating), there is a constant flow of customers.  Very popular among the locals.
Their menu is pretty simple, mostly rice bowls and some specials.  Some of their most popular dishes are Mochiko Chicken, Dynamite Poke bowl, Ramen and Garlic Shrimp bowl.  But literally everything is good here, this place will take your taste buds for a joy ride! My favorite is the Mochiko Chicken with a bed of rice and pickled onions. It was light, crispy, and flavorful. What is most crazy about this place is the price, it is so affordable especially in Maui.  Everything is $10 or less!  Tin Roof Maui has been the best most recent discovery!