So you've just landed in paradise and you're tired from the long plane ride, now what? I recommend you do these top 5 things after you arrive in Maui. But you want to go straight to the beaches right? I do too but you've got to get some things out of the way first. Unless you're staying near the airport it's quite a trek to do these things. So you might as well do them now since you're in the area. Plus you might have forgotten to pack something.
Top 5 Things to do After You Arrive in Maui
1 – Eat 🍤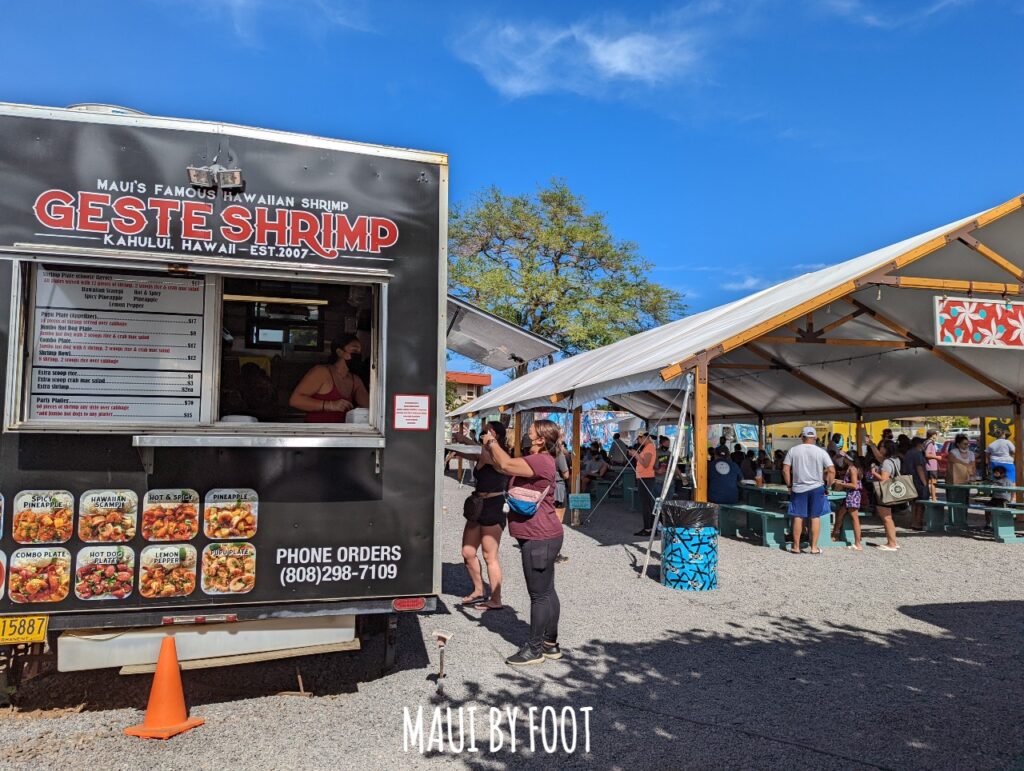 The airplane food was probably horrible and you're probably starving by now. The first thing to do after you arrive in Maui is eat. Try Geste Shrimp Truck, which is my favorite place to eat on Maui. The shrimp here is cooked to perfection and the flavors cannot be found on the mainland.  Each shrimp lunch plate comes with 12 pieces of shrimp, rice and a macaroni salad. Cash only!
They moved to a better location across the street from Costco at a dedicated food truck area, which is only 2 miles from the airport. There's dedicated parking, shade and table/chairs to eat. Pro-tip, call ahead to place your order before heading there. Everything is made to order and they can get quite busy.
If you don't fancy shrimp, there's other food trucks there like Thai Mee Up.
2 – Costco
If your accommodations have a kitchen or a fridge you should stock up on essential staples here like water, bread, eggs and various snacks.  If you're traveling with family or a big group, it's cheaper to stock up here than at the local grocery stores or ABC stores.  Plus at the Maui Costco they sell Macadamia Nuts and other Hawaiian chocolates by the boatload and it will be cheaper than buying at the ABC stores.  So you can stock up souvenir gifts here too!  Costco is only 1 mile away from Kahalui airport, so convenient!
3 – Target 🎯
Stop by Target if you need buy sunblock and other beach/hiking essentials that you don't need in bulk from Costco.  You can buy items you forgot to pack like clothes, toiletries and diapers. Target is only little over 2 miles from the airport
4 – Iao Needle ⛰️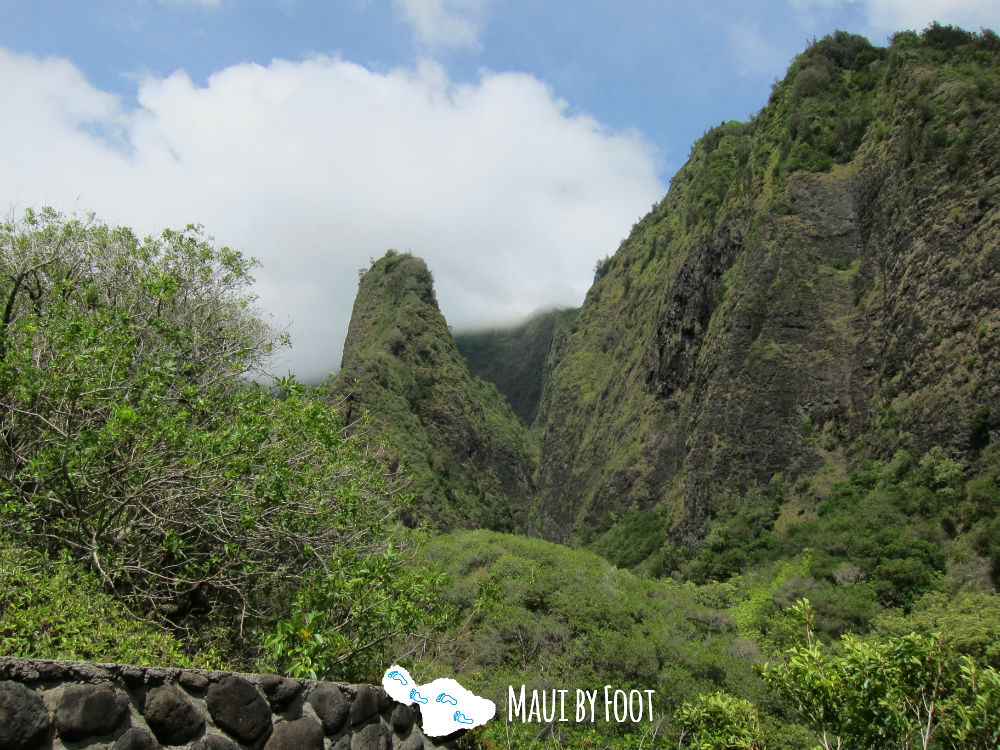 If you don't have perishables in the car, start your vacation by visiting one of the most iconic and photographed places in Maui, Iao Needle!  Just 7 miles from the airport.  The Iao Needle stands 1200 ft tall, is covered in green lush and surrounded by the beautiful green mountains. There is a nice and paved .6 mile path to get a view of the needle. Spend at least 30 mins walking around to enjoy the scenery, stream, and garden. Starting April 19th, 2021, there is a parking and entrance fee per person (non-residents). Check here for the latest fees.
5 – Double Check Your Route 🗺️
Once you are ready to head to your accommodations, make sure if you're heading to the West side of Maui your GPS takes you through the central route (HI-380) and up to the west (HI-30 S).  If your GPS tries to take you on the Northwest 340 route, abort! Abort!  This route is very dangerous, single lane, unpaved, rocky and sheer cliff drop offs.  It is the shorter route by miles but travelers should avoid this route.  My friend's GPS gave her this route and she couldn't turn around.  She spent 2 hours driving in pitch dark at night with monkey death grips on the steering wheel.  She said it was one of the scariest things she has ever done.