Beach Buddies Visitor Program
Are you a dog lover? If so, you don't want to miss out on this awesome opportunity to help a dog in need.  The Maui Humane Society Beach Buddies Visitor Program offers visitors or locals to adopt a dog for a day of fun and adventure while helping to promote the program within the community! This program is available every Wednesdays and Fridays from 11am to 4pm.
You sign up at the Maui Humane Society website.  5 dogs are available each day and spots do fill up quickly! Once you're confirmed, they will email you a day before your outing with a selection of dogs to choose from.  This is a very popular program, they are booked out 2 months in advance.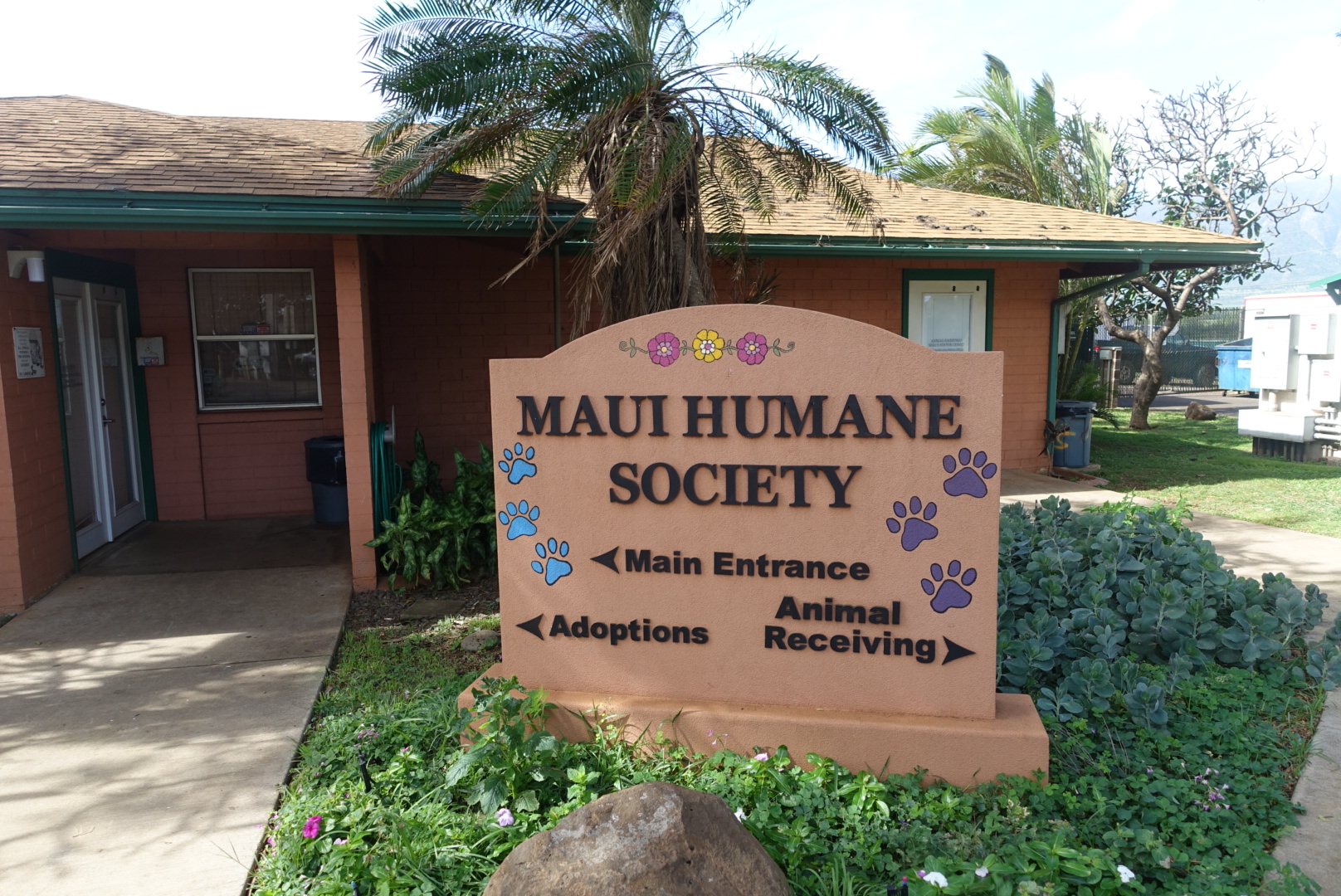 Meet Hina
I did the Beach Buddies Visitor Program today. I was matched up with a wonderful dog named Hina who is 2 years old. She is a pit bull mix. She was brought to the Maui Humane Society about a week ago. Hina's previous owner had moved and unfortunately couldn't take her with them.
This was her 1st outing. I was bit nervous at first because I didn't know her temperament or if she would behave in the car or in public. She turned out to be a real sweet heart who just wants to be loved and out on an adventure! She is very friendly with people and given the opportunity she will lick you to death!
We went to Kihie Caffe for a grab to eat for myself. This place is super dog friendly.  They gave Hina a big bucket of water and bacon.  Kudos to them! She is such a good girl, didn't beg while I ate and let me finish my food in peace.
We went to serveral beaches; Kamaole Beach III, Ulua Beach and Kalama Park. At first she was afraid of the water. But after a few minutes she was jumping into the water and biting the waves! She loves to run on the beach and play tug o' war! She didn't want to rest and was always ready for our next adventure.  She was also pretty good on leash.  She loves checking stuff out and sniffing poles.  Thankfully there were no accidents in the car.
In the end It was very sad to leave her at the shelter. She was definitely a favorite at the shelter. She licked everyone in sight! I went to say goodbye to Hina one last time at her cage, when I left she started to jump and whimper. I got bit teary eyed, but still glad I did it. My trip wouldn't be complete without this amazing experience with Hina!
The people at the Maui Humane Society are wonderful caring people. You can also help out by donating items from their Amazon Wishlist.  If you're heading to Kauai, the Kauai Humane Society also runs a similar program called Shelter Dogs on Field Trips.  Check out the programs, help make the day of a dog. Help them find a forever home!
(Yay, my first outing at the beach!)
(Are you done resting yet!?)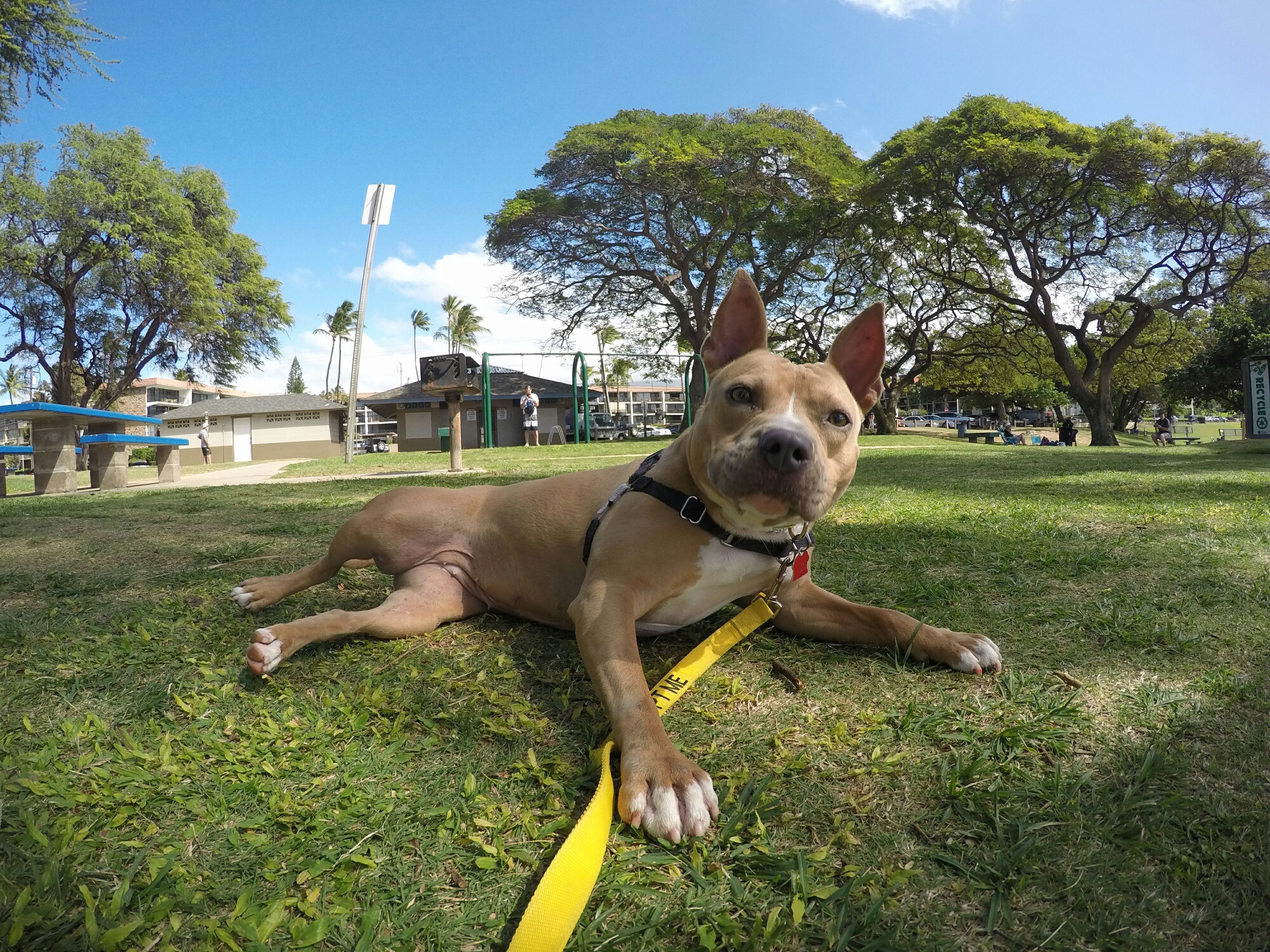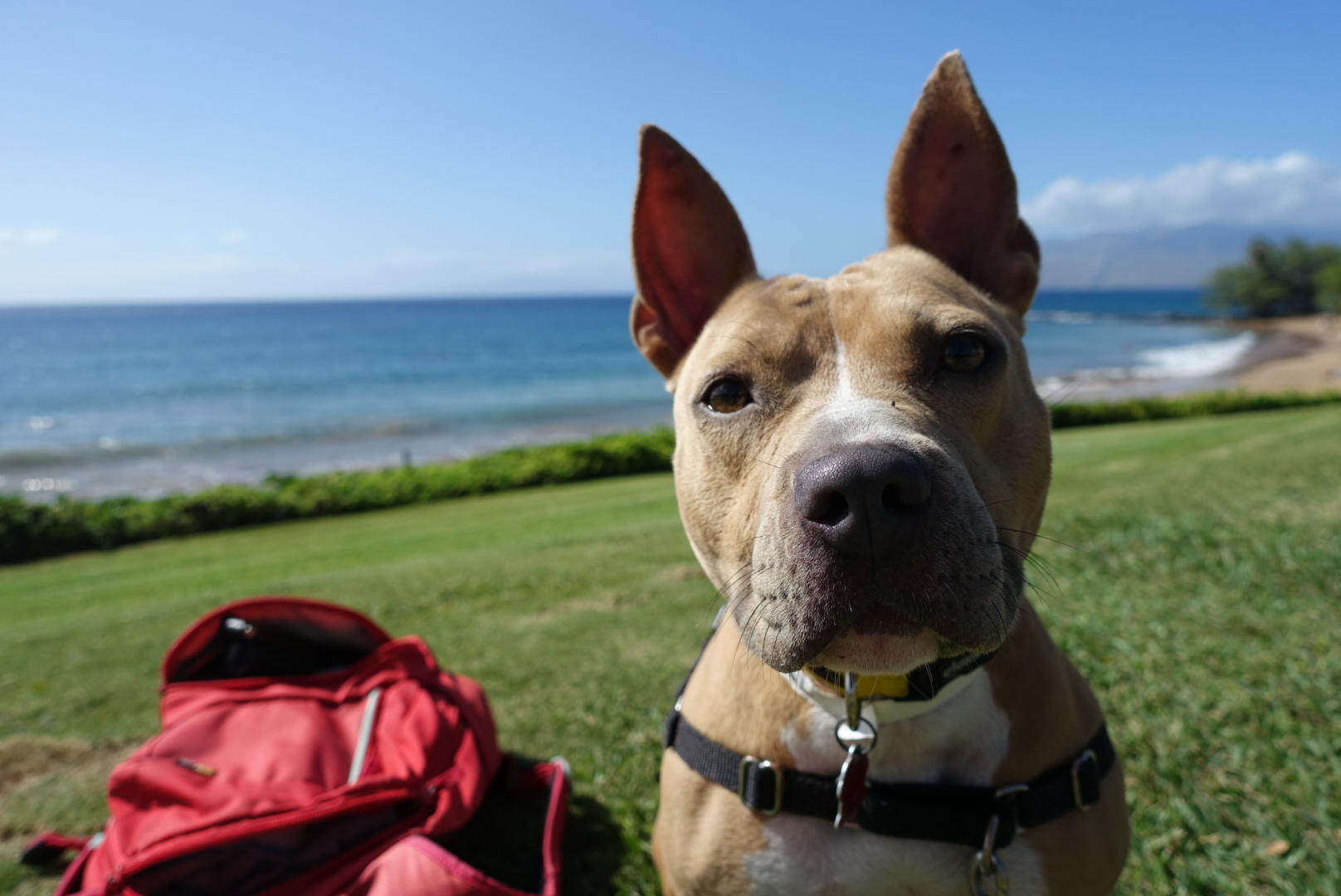 (How many pictures do you need!?)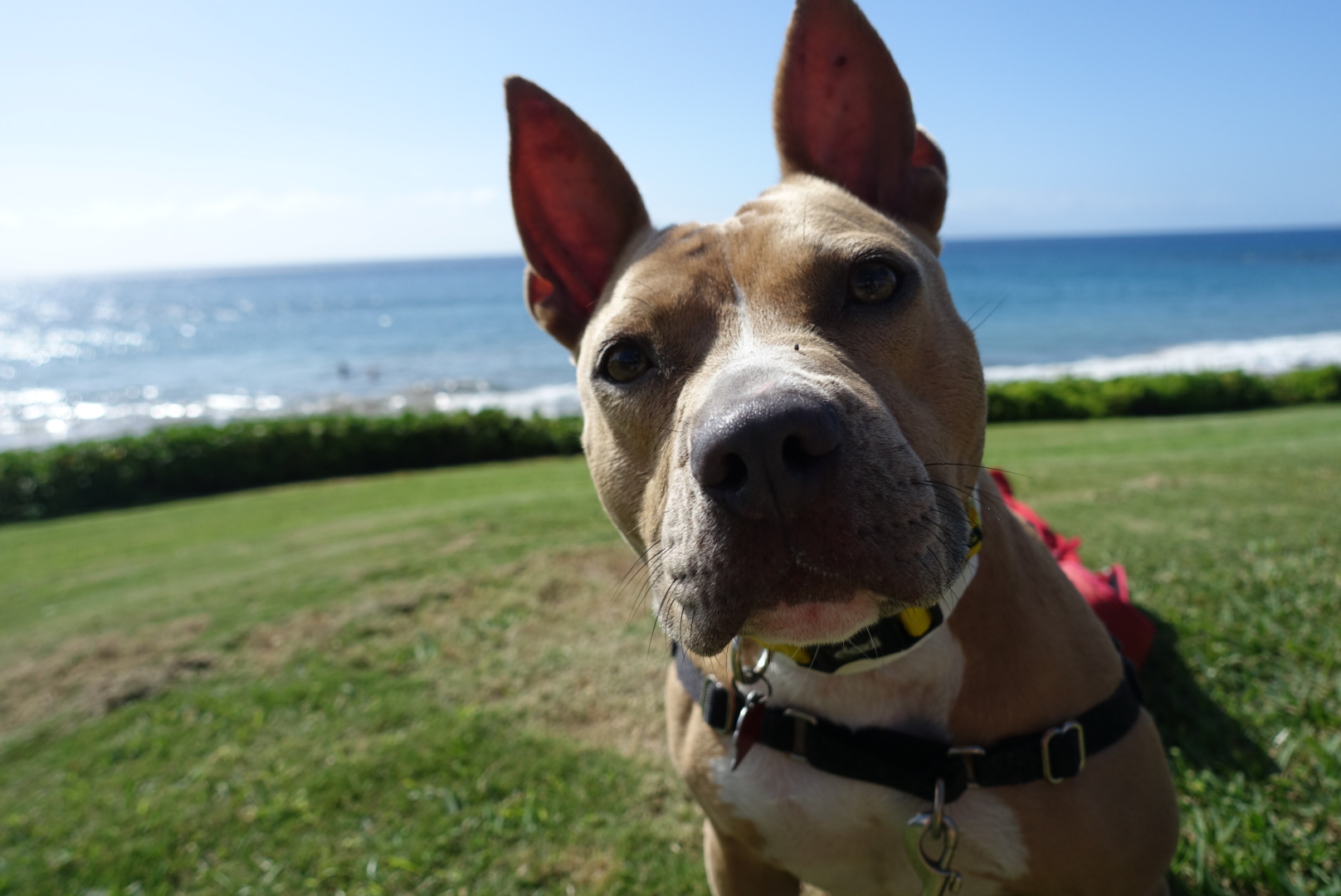 (Are you done taking pictures!? You promised if I look cute we would do stuff!)
(Where to next?!)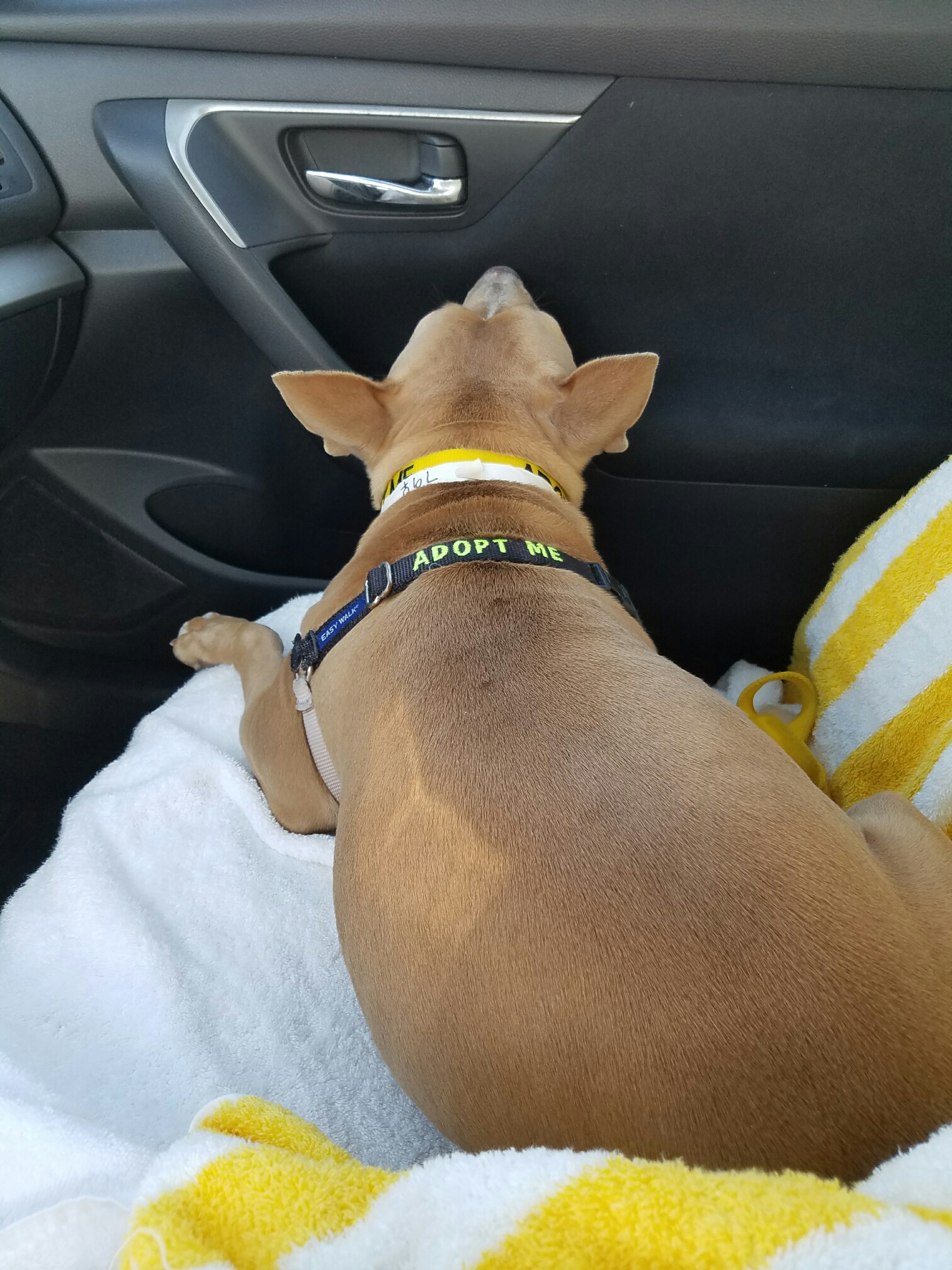 Someone got tuckered out!